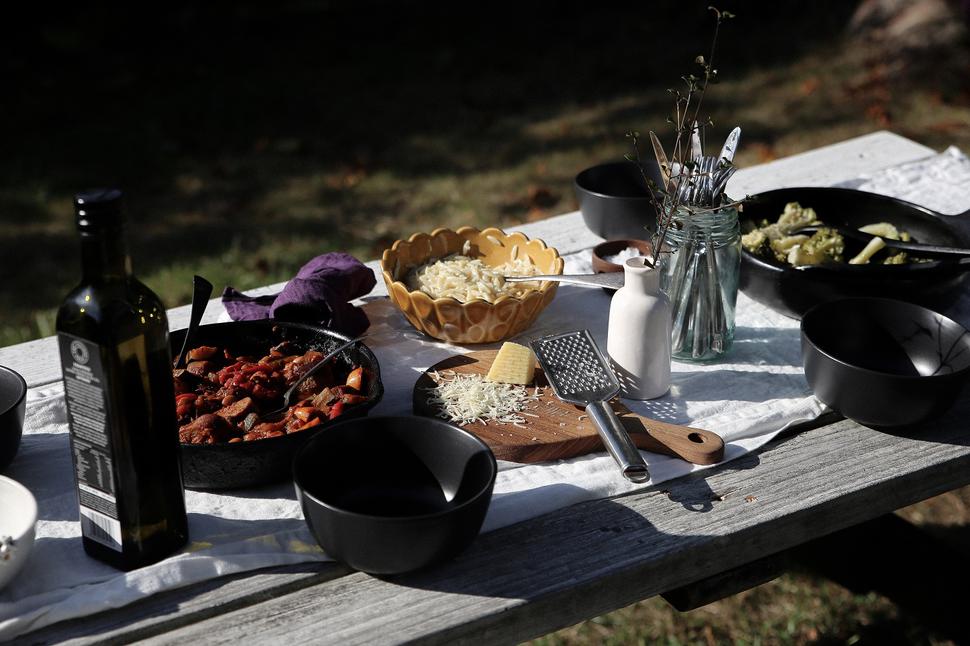 Red Peppers With Rosemary & Chorizo
Sink into the rich, smokey flavours of this summer favourite
Thursday Jan. 31, 2019
Here's a sumptuous summer stew of red peppers, red wine and garlic. I've included chorizo for its rich, vibrant warmth, although it's just as good without if you are vegetarian. Fragrant and full of flavour, this recipe is lovely served over rice, pasta or alongside some rustic sourdough bread.
RED PEPPERS WITH ROSEMARY & CHORIZO RECIPE
Serves 4
2 Tbsp olive oil
4 chorizo sausages, sliced into rounds
6 cloves garlic, finely chopped
2 Tbsp fresh rosemary, finely sliced
1 Tbsp smoked paprika
2 large peppers, sliced into strips (I used red and yellow)
4 courgettes, sliced into rounds
5 large tomatoes, roughly chopped, or 1 can chopped tomatoes
200ml red wine
2 cups chicken or vegetable stock
1. Heat the oil in a casserole or large pan over medium heat. Cook the chorizo on each side until lightly golden, about 2–3 minutes. Transfer the chorizo to a plate, and set aside.
2. Add the garlic, rosemary and smoked paprika to the casserole, and sauté until fragrant, being careful not to brown. Add the peppers and courgettes, and cook, stirring every so often, for about 5 minutes. Add the tomatoes, red wine and stock, bring to a simmer and turn the heat down to low.
3. Cook for 20–25 minutes, or until most of the liquid has cooked off. Season with sea salt and freshly ground pepper, then stir in the chorizo. 
4.  Serve warm with pasta, rice or some good bread. A sprinkling of parmesan is nice, too.
Share this:
More Food & Drink / Recipes