Red Velvet Cupcakes Recipe
Karla Goodwin of Bluebells Cakery shares her recipe for red velvet cupcakes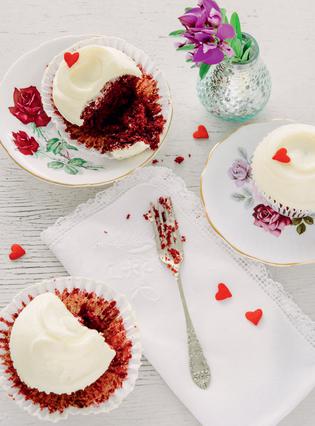 SPCA Cupcake Day is on August 24, and you can help fight animal cruelty by baking and selling cupcakes to friends, family and colleagues. Proceeds go to the SPCA — find more information and register to take part at spcacupcakeday.co.nz
These red velvet cupcakes are by far the most popular item at Bluebells Cakery and are sure to become a household favourite. New customers are always intrigued by the mysterious red sponge and faintly familiar chocolate flavour. This recipe uses oil instead of butter, which makes the cupcakes deliciously moist and helps them keep for longer.
RED VELVET CUPCAKES
1 1/2 cups plain flour
1/2 tsp salt
1/2 cup buttermilk, at room temperature
1/2 tsp good-quality vanilla extract
4 tsp red liquid food colouring
1 Tbsp Dutch cocoa
2/3 cup caster sugar
1/2 cup + 2 Tbsp canola oil
1 large free-range egg
3/4 tsp baking soda
1 tsp white vinegar 
VANILLA CREAM CHEESE ICING
125g unsalted butter, at room temperature
 175g full-fat cream cheese, at room temperature
3 1/2 cups icing sugar, sifted
1 tsp good-quality vanilla extract 
1. Preheat the oven to 180 degrees Celsius (160 degrees Celsius for fan-bake). Line a 12-hole muffin tray with cupcake cases.
2. Sift the four and salt into a bowl and set aside. Mix vanilla, food colouring and cocoa to a paste and set aside.
3. Whisk the sugar and oil with a handheld electric mixer until combined well. Add the egg and beat well after each addition. Add the cocoa paste and mix well, scraping down the sides to ensure an even mixture.
4. Add a third of the dry ingredients and mix until well incorporated, then pour in a third of the buttermilk and mix until incorporated. Repeat until all the ingredients are used up and mixed in well.
5. Finally (don't forget this step!), mix together the baking soda and vinegar (it will foam). Add to the cake batter and beat on medium speed for 10 seconds. Make sure you scrape down the bowl to ensure everything is well mixed.
6. Divide the mixture between the cases, filling to at least two-thirds full.
7. Bake in the middle of the oven for 20-25 minutes or until a skewer inserted into the centre of the cupcakes comes out clean.
8. Cool in the tray for 10-15 minutes before transferring to a wire cooling rack to cool completely.
9. To make the icing, beat the butter in a bowl with a handheld electric mixer until smooth and lump-free. Add the cream cheese and beat until well incorporated. Slowly add the icing sugar in three batches, mixing well after each addition. Add the vanilla and beat on high speed for a few minutes until the icing is light in colour and fluffy.
10. If making this beforehand: Keep icing in an airtight container at room temperature or in the fridge. Before using, bring back to room temperature and beat again until fluffy.
11. This icing will keep for up to a week in an airtight container in the fridge.
12. When cupcakes are cool, top with the vanilla cream cheese icing.
13. These cupcakes will keep for 3 days in an airtight container at room temperature.
Share this:
More Food & Drink / Recipes