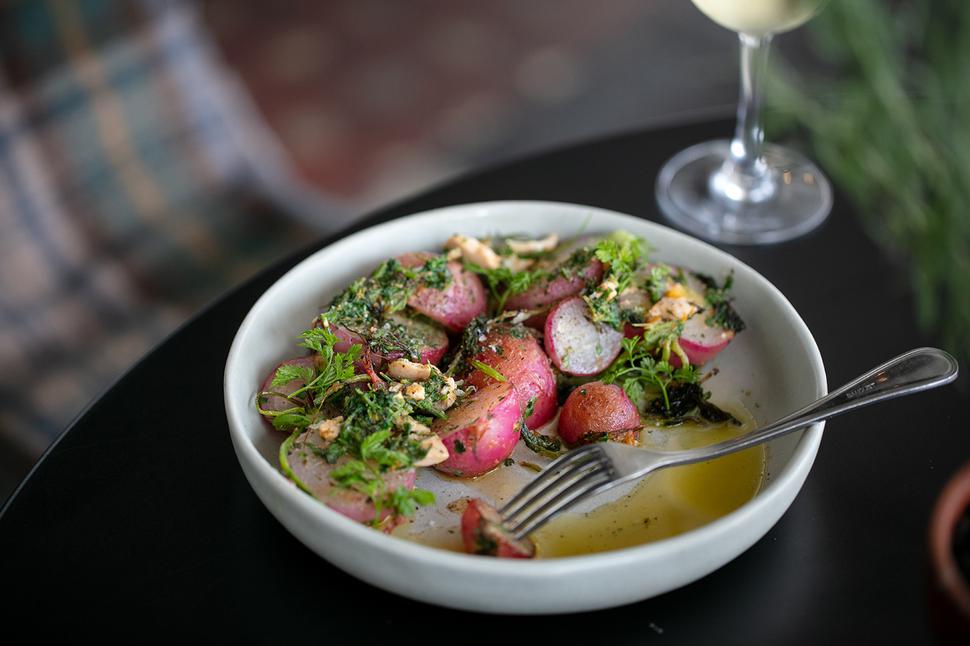 Restaurant Review: You Must Try Annabel's New Dinner Menu
Jesse Mulligan enjoys the insouciant formula at this 'hybrid' bistro and wine bar
Thursday June 17, 2021
ANNABEL'S
Cuisine: Bistro
Address: 277 Ponsonby Rd, Ponsonby
Drinks: Fully licensed
Reservations: Not accepted
From the menu: Dates $5 ea; fritto misto $22; salad $16; lamb meatballs $22; charcuterie platter $32
Rating: 17/20
Score: 0-7 Steer clear. 8-12 Disappointing, give it a miss. 13-15 Good, give it a go. 16-18 Great, plan a visit. 19-20 Outstanding, don't delay.
The best thing about doing this job is helping make small, unknown restaurants famous. But I'm stuck in a weird spot this week because, for once, I suspect that Annabel's might be happier without the extra customers.
I sensed this even before I visited, when I DMed them on Instagram to find out what their policy was on dinners, but instead of replying they just liked my post then ignored it. You know something is going on when a restaurant reviewer is ghosted by a restaurant.
But I visited for dinner anyway because I've always been bad at reading the signs (once in my 20s I called a girl I thought was interested in me eight times in a row because I naively assumed her phone must be lost and ringing her would help locate it).
READ: Find Brilliant Bites At Clay Wine Bar
They didn't seem disappointed to see me but they didn't seem excited either, and I think the reason is because they have a great chef working alone with a deep fryer and a hotplate, and she couldn't cook for any more people if she wanted to.
Okay, so she has a small oven too. And a toastie maker, which she uses to heat up sauces when nobody's waiting for a sandwich. This entire set-up takes place in the corner of a small bar, though (unless you were curious like me) you wouldn't know there was any lack of resource, based on what turns up at your table. This is really good food, with really good wine, in a weird part of Ponsonby. It's one of my new favourite places.
The fritto misto comprising squid and lemon. Photo / Babiche Martens

The menu is different. A favourite dish was the fritto misto, which at its worst can feel like random deep-fried bits from the fishmonger's bin. At Annabel's though, it's a very considered dish — some squid, sure, but also ice plant and lovage and, incredibly, lemon slices, each done tempura style so you pick up the lemon, take a little nibble and then chomp on something else delicious from the plate.

It's fun, it looks great and there's a moreish balance thanks to the green bits and pieces that make up the dish.

They offer a short but complete menu of dishes, supplemented with a few daily offerings on the blackboard. The gnocchi special was already sold out by the time we sat down at 8pm but I have no problem with that — it's a sign the food is hitting the spot and adds some welcome excitement to know that the best stuff is in demand.

READ: Stanley Avenue Is Milford's Gloriously Indulgent Wine Bar

You must order the dates which ... well, to be honest I wasn't that excited about eating a whole date for dinner either but you have to taste it to believe it.

The fruit is wrapped in prosciutto to counter the sweetness, but then there's also a spicy, smoky hit delivered via a loose nduja sauce that covers the date and creates a pool of flavour around it on the plate.

I ordered the antipasto platter but was delivered the charcuterie instead — it happens, and once I'd seen it I couldn't bear to send it back. It featured some really good cheeses, pickles and a selection of cured meats, which were very enjoyable to work through.

If you sometimes feel like this stuff all tastes the same, you'll enjoy Annabel's, where one bite of the cured lamb takes you to a completely new place — if you love that meat cooked, you must try it served like this, where it tastes even more gamey than usual.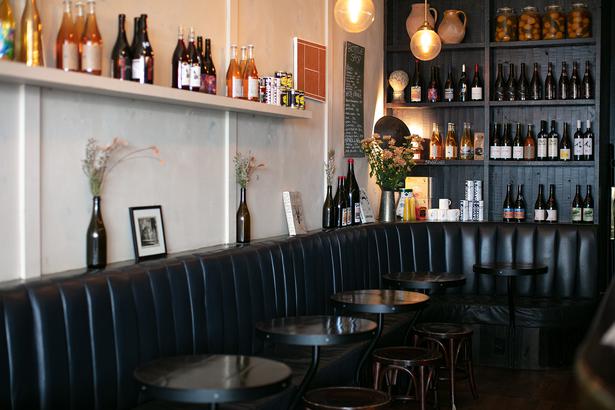 I especially liked the more challenging stuff on the menu — radishes were served in all shapes and colours, green tops attached, with a "pickled egg butter". This was a bitter dish, with almost nothing thrown in to give your taste buds a break but I thought "why not?" The vegetable is the star — there's plenty of sweetness and fat on other plates and so it felt right to have this little bitter side plate in the mix.
Likewise, the oysters came with a mignonette that was tart and unindulgent — it did a great trick of bringing out the natural sweetness in the seafood.
With any luck you'll be eating outside, under a heater, listening to some great music on a cranking sound system. I prefer unfamiliar music during dinner (otherwise it can feel like the boss has just chucked The Breeze on and hoped for the best) and this playlist is great — nothing you can sing along to, but plenty to make you feel that you're in the right place.
And sure, Three Lamps may never appear on a list of the world's coolest neighbourhoods but when you're at Annabel's, as at Beau and Sidart, you really could be anywhere (the effect is magnified if you're not sitting with a direct view of St Pierre's and the Post Shop).
This is, at its core, a wine bar, so you can be assured you will drink very well between mouthfuls — and if you're only interested in a plate or two you won't feel like the odd one out. This sort of hybrid eatery is an emerging trend in Auckland and I'm all for it. You should visit at once: tell them I sent you, and that I'm sorry.
Share this: