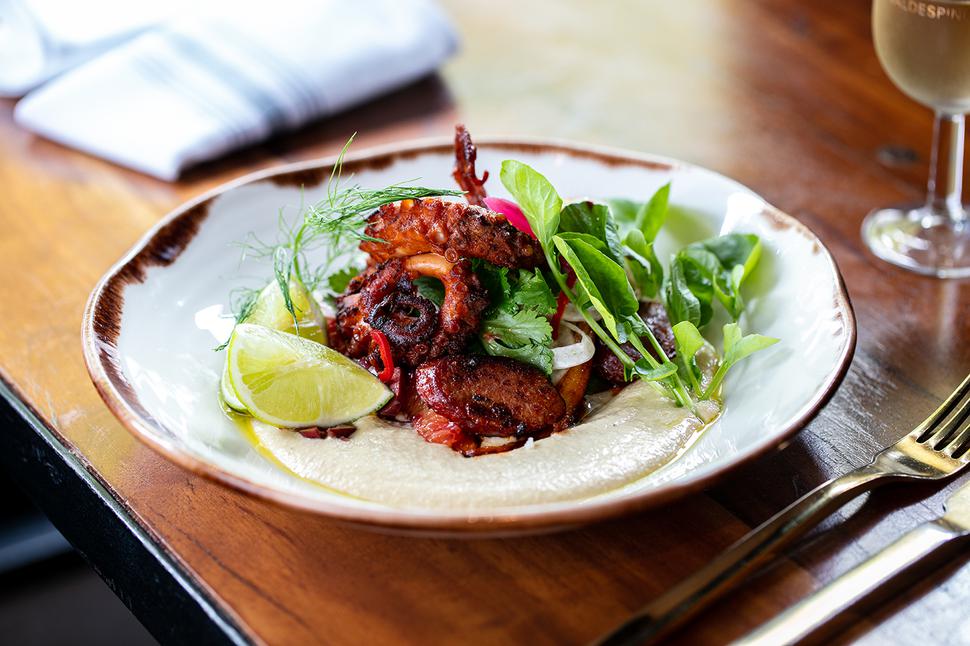 Restaurant Review: Barulho Pulls Off Playful Spanish Cuisine With Poise
Jesse Mulligan revisits this subterranean tapas spot to find expansive, often outrageous dishes that work gorgeously
Thursday April 22, 2021
BARULHO
Cuisine: Spanish
Address: 2-16 Watt St, Parnell
Phone: (09) 379 0277
Drinks: Fully licensed
Reservations: Accepted
From the menu: Flatbread with ricotta and fig $18; Ceviche $22; Paprika grilled octopus $38; Pork and beef meatballs $32; Brussels sprouts $16
Rating: 16/20
Score: 0-7 Steer clear. 8-12 Disappointing, give it a miss. 13-15 Good, give it a go. 16-18 Great, plan a visit. 19-20 Outstanding, don't delay.
The Top 50 last week made a lot of people happy — I haven't had this many Instagram notifications since I tried to give away my Smeg knife stickers — but it inevitably made a few upset, too.
"Why isn't [my favourite restaurant] on there?" people asked, to which I replied: "but who would they have replaced?"
Still, there is another whole list of restaurants who could have snuck in if we had the space. I really like Gemmayze Street, and Alma, and Golden Nest, and Ima, and Cafe Hanoi and . . . well, you can see the problem.
Barulho is another one that might have gotten over the line in the right weather. I first visited when they were a tiny upstairs/downstairs tapas bar but now they've slid out of that place and into the basement next door.
It's a totally different restaurant now but one which still benefits from its hideaway location — at the end of a dark lane in renovated Parnell, the only lighted windows in the street.
It's a lovely room to enter: busy, happy and partly subterranean. They've created a unique Auckland space and, when a young handsome waiter approaches and talks you through the menu with a slow Texan drawl, it's hard not to feel charmed.
It was cold inside — all that polished concrete and no sun to warm it up, I guess, but this was late summer so I didn't expect to be shivering in a suit jacket.
READ: Britomart's Mr Morris Receives A Perfect Score
They might have some industrial heat source they'll be cranking now that the night temperatures have gone down but I wonder if they need to take a look at it. Spanish food isn't the same with a chill.
We were in the main room which is the one to plump for — next to us, a family group of 10 were having the time of their lives and Barulho is perfect for that.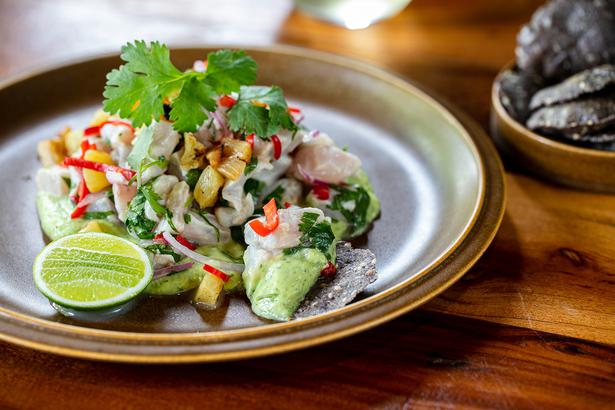 There's a second room with a high, shared table that looked lonely and whereas I don't usually care where I'm seated, I reckon you should avoid eating in there, where you must feel you're missing the party.
Barulho provides a small bowl of salt for each table and I love it. Chefs force themselves to undersalt so that they don't offend the bland tastes of problem guests but restaurant food will almost always taste better if you add more (don't worry about the health stuff, you'll get more sodium from processed food than you ever will from a restaurant sprinkling).
Restaurant Review: Barulho, Parnell
Having a generous tabletop supply that I didn't have to ask for was another reason to rate this place.
But most of the food was perfectly seasoned already (a chef who thinks salt is important to hand out will probably be giving you more than enough in the first place).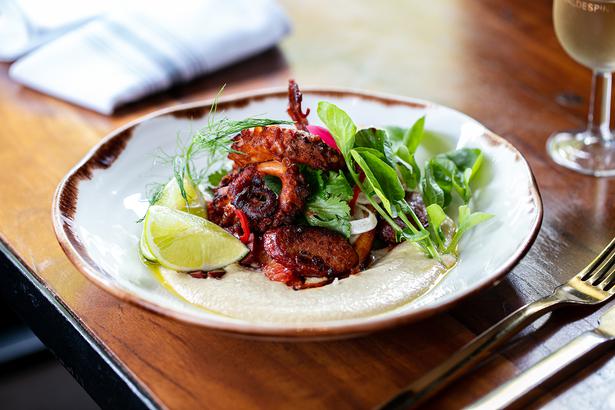 The first arrival was a masterpiece — a wood-fired flatbread advertised as coming with "fig-leaf ricotta" it was actually topped with slices of raw fig too, surely the first time this expensive biblical fruit has been included without advertisement. For $18 this dish was huge, with loads of goat's cheese and a handful of walnuts too. We ate half and took the rest home.
Some of the combos are outrageous, but they work. Octopus came with blood orange, and it could be the new pork and apple.
READ: Ahi Offers Unsurpassable Artistry On A Plate
Brussels sprouts were glossy and greener than usual, the butter acting more as a glaze than a browning agent; they came with currants and grapes which felt like we were breaking some law of nature but each provided something different — sweetness with the brightness.
And they do the basics well too — a ceviche came with beautiful blue masa chips and coriander leaves of a rare fragrance.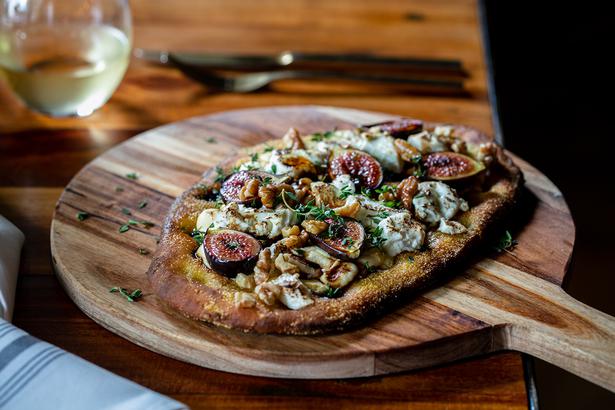 You can't stuff up raw fish but you can make it as good as it can be, which they definitely do here. I could take or leave the pork and beef meatballs but it might just depend what you're in the mood for.
Britomart's Alma is the restaurant with which this has most in common but each suits a different occasion. I've come to think of the former as a great bar with food, while Barulho is now unashamedly a place to sit down and eat (though the drinks are great too).
You could add Candela to these two and turn it into an Auckland tapas crawl but, unlike in Spain where the bars are all in a row, you'd inevitably find yourself stuck in traffic, hungry and needing a wee.
You might just choose to spend your night at Barulho instead; let's call it the 51st best restaurant in Auckland.
Share this: