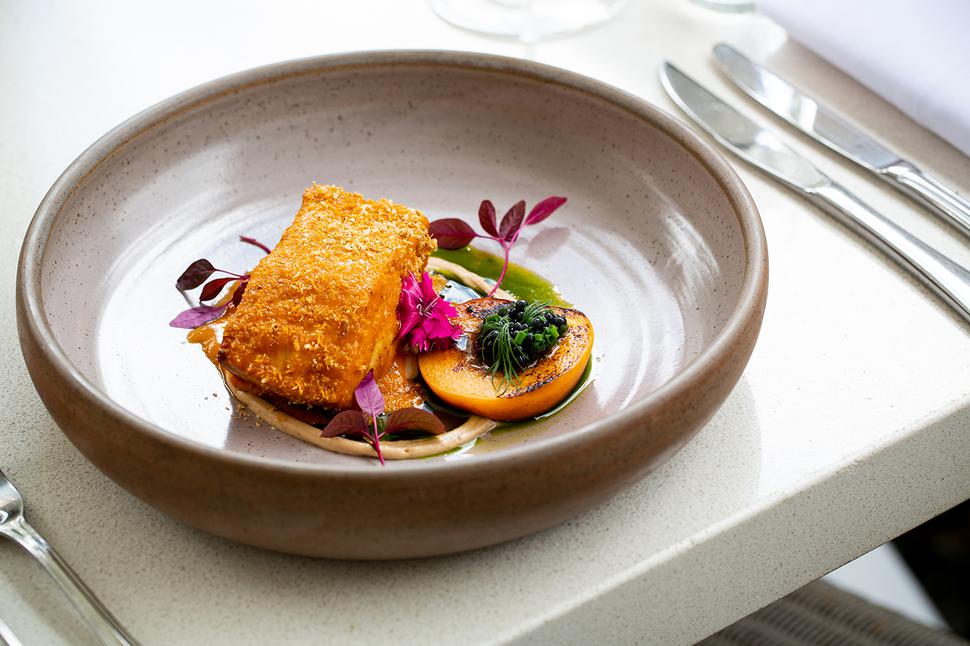 Restaurant Review: Lift Your Soul A Little At Bracu
Sample salmon tartare, duck rosette with a pickle citrus puree, and sorbet among the olives
Thursday March 24, 2022
BRACU
Address: 49 Main Rd, Bombay
Phone: (09) 236 1030
Drinks: Fully licensed
Reservations: Accepted
From the menu: Salmon tartare $5.50; bread $5; duck rosette $26; citrus-cured salmon $26; fish of the day $42; pumpkin gnocchi $35; trio of sorbets $18
I'm always up for a roadie but I wish the more distant eateries would list their hours on their Instagram or at least, in the case of Bracu, turn the phone on in the restaurant.
Forty minutes is a long time to travel in the hope of getting a table, and I was forced to repeatedly call back trying different options on the phone tree before eventually connecting to an off-duty wedding planner attached to the estate, who called the maitre d' personally (God bless her) and rang me back with the good news that a place would be set for myself and my daughter, at 1pm that same sunny Sunday.
I would have immediately forgiven them if there'd been any sign of a staff shortage when I got there but there were plenty of waiters, a familiar mix of the very experienced and the very fresh that comes with a restaurant in the sticks, but all with a chipper, can-do attitude.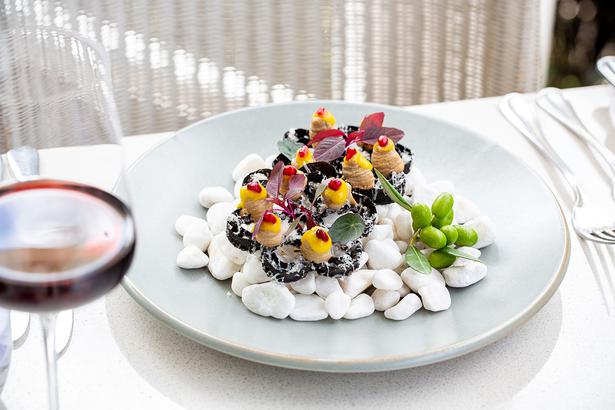 Al fresco at Bracu means on the deck, with a plastic wall/window between you and the outdoors. I'm not sure where this fits on the Omicron avoidance scale (and it's possible nobody's done a double-blind control study set in a semi-tarpaulin structure in the midst of an olive grove) but we felt pretty safe, and boldly elected to remove our masks rather than strain our aperitifs through them.
I noted a number of picnic tables on the lawn around the main dining room, and did ask whether service was possible there, but it wasn't — a policy surely worth reviewing given the circumstances.
READ: Copia Is Worth Going The Extra Distance For
The menu is short and fancy, and like those picnic tables I do wonder whether a more casual approach might serve them better. There've been some really brilliant fine dining chefs here over the years but it's a hard genre to do really well, even when you have the staff and the customers and a reliable supply chain.
Look, the food here is good and you have to examine it pretty closely to find flaws but I feel like a more rustic, upmarket-country-pub cuisine could do better to drag punters from the city. My two cents.
The oysters were unavailable so we shared a crimped pastry shell filled with salmon tartare, a fresh and pleasant appetiser adorned with predictable little morsels of this and that — chives, creme fraiche, salty roe — and served on a little rock garden with a branch of sage.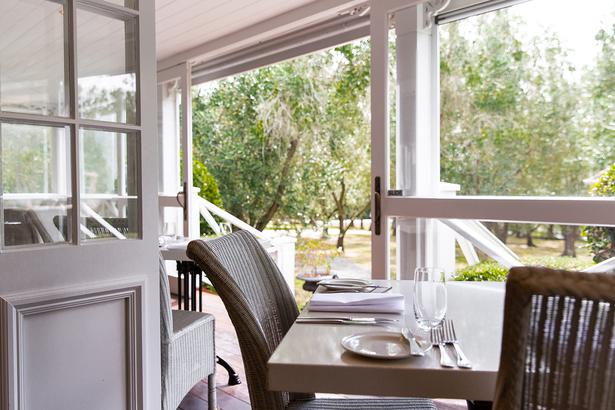 My 11-year-old doesn't tend to look at the kids' menu anymore (though there's a good one here) but also finds the adult stuff challenging from time to time, and I regretted telling her afterwards that she'd been eating fish eggs; she looked at me like I'd just smothered her pet rabbit.
We ordered the bread which was great as usual, though I noticed they no longer put a bottle of estate olive oil on the table and let you go nuts with it (very possibly they stopped doing this after my wife's last visit) — instead you get two generous bowls of the stuff for dipping.
"What is this knife for?" asked Hazel and, given there was no butter, I didn't have an answer. Cutting the bread, I supposed, though I'd just finished telling her that, unexpectedly, in nice restaurants you're meant to rip it up with your hands.
There was more roe (dark and tiny this time) with my fish of the day, a lovely piece of kingfish dusted with something innocuous and cooked through, unusually, but with plenty of moisture in the meat and matched, I'm going to say, reasonably well with the nectarine it was served with.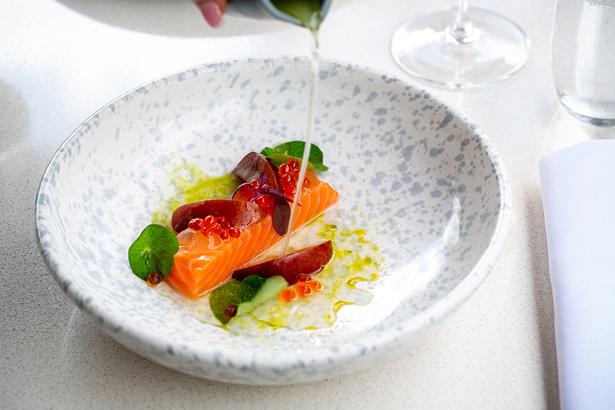 There was lots of this late-summer savoury/sweet seasonality on the menu and whether you're into it or not probably comes down to your personal tastes.
Hazel liked her salmon entree (more roe, more stonefruit) but wasn't so keen on the gnocchi, which was edible enough but served with a medley of vegetables that could have had more love — chefs are doing incredible things with wild mushrooms now and so when they're underpowered it really feels like an opportunity missed.
We swapped plates and I finished her main off for her, a trick I often pull with her mother when she's hit the olive oil too hard and started running out of steam.
The waitress brought us dessert menus and after studying the options I said, "We'll have the trio of sorbets, please".
READ: Greek Taverna Daphnes Is More Than Its Street Appeal
"Do you know what they are?" she replied, in the sort of way you'd say it if the flavours were asparagus, kina and two-stroke engine oil, but turns out they were a more standard coffee, coconut and berry — good enough to revive the daughter's appetite and fuel us up for the long drive home.
Though that ride down and up State Highway 1 can feel a bit punishing, Bracu is a pretty lovely place to spend a couple of hours and you do actually feel your soul lift a little when you first get out of the car and breathe in the country air.
It's the sort of restaurant you can easily go five years without thinking about but, next time it does cross your mind, do your best to book a table.
Share this: