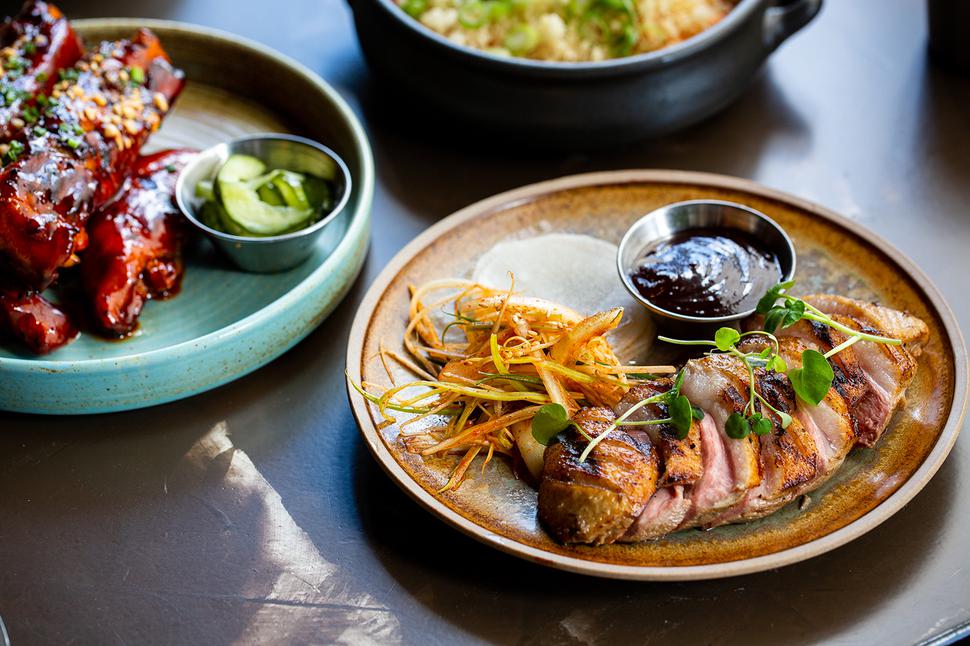 Restaurant Review: A Killer Combination Of Style & Romance At Gaja
The Korean fusion restaurant in Ponsonby is a newcomer with atmosphere, featuring Hwayo soju-cured fish, rice gnocchi and shamlessly indulgent gochujang chicken
Thursday Aug. 19, 2021
GAJA
Cuisine: Korean
Address: 4 Brown St, Ponsonby
Phone: (09) 600 3466
Drinks: Fully licensed
From the menu: Slaw $12; Ssam pork wraps $24; Sunset salmon $26; Kimchi fried rice $22; Ssiba chicken $32
Bookings: Accepted
Rating: 16/20
Score: 0-7 Steer clear. 8-12 Disappointing, give it a miss. 13-15 Good, give it a go. 16-18 Great, plan a visit. 19-20 Outstanding, don't delay.
It's considered poor form for a restaurant reviewer to show up on opening night but, what with soft openings and pre-launch Insta-hype, it's not always clear when opening night is. I mistakenly showed up somewhere recently about half an hour after they'd opened the doors for the first time, and when they asked for my order I joked "what's popular?". The waiter didn't get it and, with a straight face, pointed to a few things on the menu, inadvertently smudging the ink in the process.
Some say a restaurant should have everything running perfectly from the get-go but I think that's unreasonable — my view is that you should treat any mistakes with good will, that practice makes perfect and that we'll keep on getting the same food by the same people unless we're willing to cut the new ones some slack.
All of which is to say that I hope the team at Gaja don't feel too aggrieved that I ate their food for dinner not just on the first night but, due to a clerical error, on the second night as well. The circumstances of this administrative bungle are too boring to waste your time with but both meals were very pleasant experiences and I'm happy to recommend you book in your own double-header.
READ: Big Flavours At Korean Destination Gochu
It's a Korean restaurant occupying a corner space in the excellent Ponsonby Central, which was a regular drop-in spot for myself and my many children while out for a walk on Saturday morning. There's been a strategic shift from retail to hospitality at Ponsonby Central and there are now fewer reasons for a family visit.
I miss the days of picking up a brown bag of oranges from Ceres but I suppose that high-value transaction, plus a long black now and then, weren't enough to pay the rent, so now almost the whole back half of the development is devoted to food you can eat there and then.
Gaja's spot used to be a butcher but the new tenants have done a clever job of making it feel as though it was always a restaurant. It's a stylish, even romantic space and although there are other excellent Korean joints around Auckland, you can't say that about many of them.
The atmosphere was a little subdued when I visited but I think that was a first week thing — the staff and, weirdly, the customers, all nervously feeling their way in the new space.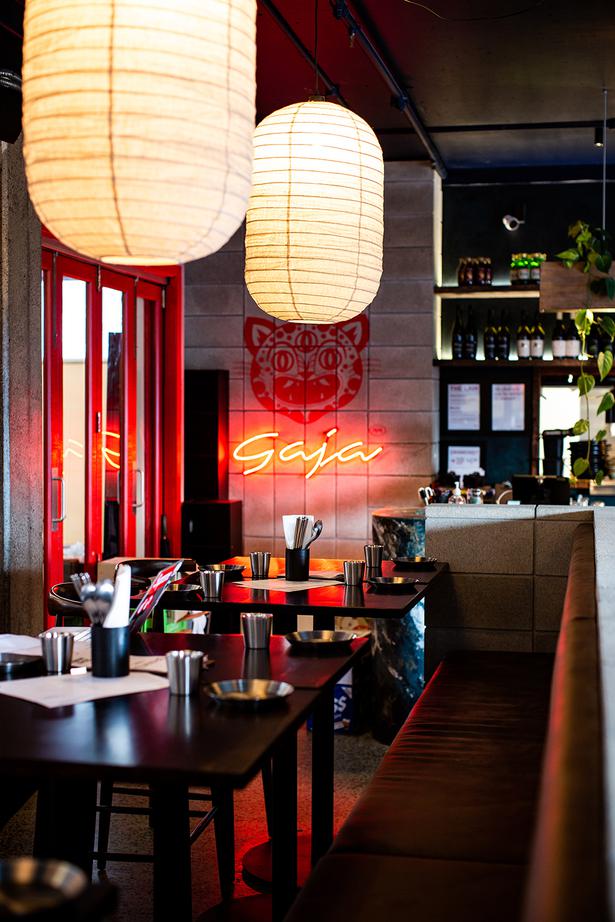 The best Korean food makes you want to keep smashing it even when your stomach is saying no. It's one of the most shamelessly indulgent cuisines — why just fry something when you can add cheese and then mayo to it? — and the charismatic heat of gochujang keeps you coming back again and again to something like the ssiba chicken, even after the chook itself is all gone and it's just slices of onion sitting on the slick bottom of the plate in the cheesy, chilli sauce. It's marketed as "a dish so spicy it'll make you say f**k" but I didn't need a fork, I was okay with the chopsticks. In fact if anything I think the chopsticks made the heat easier to take.
I did struggle utensil-wise with the fried rice, metal sticks on a metal plate being a quite tricky way of getting the loose grains into one's mouth, even after you'd broken the egg yolk which comes on top to try to help bind it all together. I don't often say it but I don't think this dish is worth the trouble.
Much easier to use your hands on dishes like the seared duck, which comes with leek kimchi and pancakes so tiny you wonder if there's been some metric/imperial mixup in the ordering process. The grilled pork works a little better with a combination of perilla and oak lettuce for wrapping, plus a tiny bowl of ssamjang chilli sauce to create one of the loveliest mouthfuls on the menu.
READ: Paul & Lisa Lee Are Bringing An Uncompromising Taste Of Korea To Ponsonby
And though it was the least classically Korean, I think my favourite was the "sunset salmon", which looks and tastes as good as it reads, a bright plate of sliced cured fish stained with marinade, served with dots of avocado creme and some mild chilli. They will sell hundreds of these a week, and deserve to.
They're keen on offering cocktails, but I don't think they've got them quite right. A "chilli sour" tasted sour, but that word means something a little different on a cocktail list and I missed the layer of foamy egg white that the word would usually indicate. I got some of that foam on their signature Hwaju but it was in a whiskey glass, with a large block of ice and a straw, so you couldn't enjoy sipping a bit of the top layer and the bottom like you normally would. I'd stick with the beers, and the pretty solid wine list.
Gaja won't benefit from streetfront publicity in the way that Blue Breeze does on one of the other corners of this complex, but its social media game is strong and the restaurant is offering something different enough that it deserves to build a following among people willing to seek it out.
Share this: