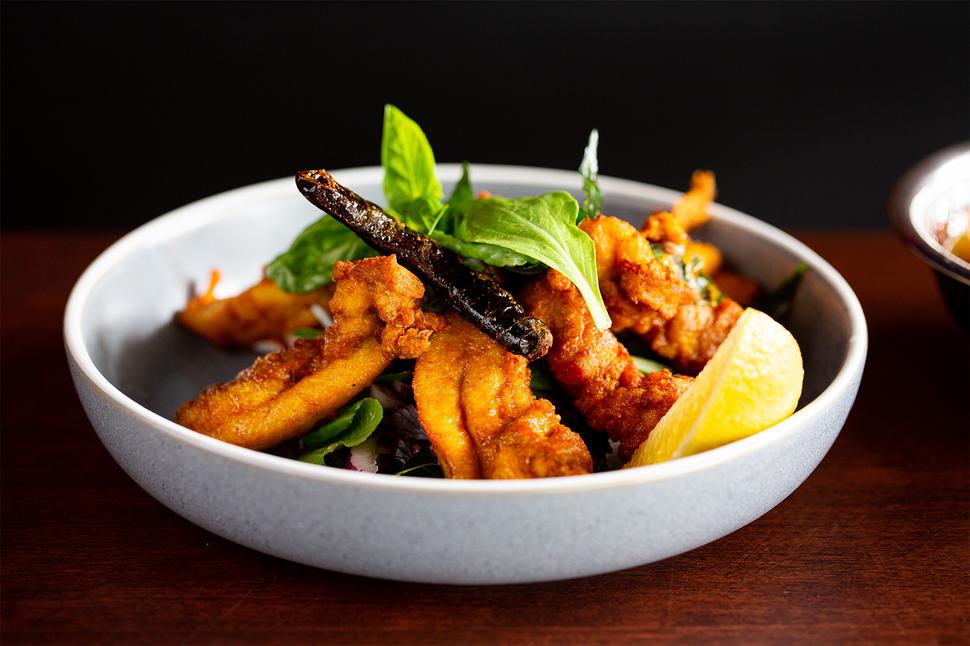 Discover A Taste Of Heat At Ponsonby's Mr Spicer
Jesse Mulligan finds elements of charm at this new Indian restaurant
Thursday March 4, 2021
MR SPICER
Cuisine: Indian
Phone: (09) 215 2025
Address: 14 Ponsonby Rd, Ponsonby
Bookings: Accepted
Drinks: Fully licensed
From the menu: Masala chilli corn $12; gunpowder prawns $25; Goan fried chicken $18; lamb vindaloo $25; raita $5; Indian pickles $3
Rating: 14/20
Score: 0-7 Steer clear. 8-12 Disappointing, give it a miss. 13-15 Good, give it a go. 16-18 Great, plan a visit. 19-20 Outstanding, don't delay.

They are trying hard at Mr Spicer, a flash new Indian restaurant down the Karangahape end of Ponsonby Rd.
It's a pretty small space — small enough that you momentarily have to walk outside to reach the toilet, past an unlucky man washing dishes in a room the size of a large-ish cupboard.
I visited under Level Two restrictions and was the last person allowed in, seated with the permission of a couple in the front window who seemed happy enough for me to take the unused table beside theirs and drag it beyond the sneeze arc and into the viral green zone.
The young woman serving me was great fun and when I ordered my food asked if I would like it "mild or medium?".
When I asked if I could have it "hot" she assessed me for a moment then said "nooo, I think mild or medium" but I stuck to my guns and I'm pleased to say that when the curry arrived it was challenging but manageable. (Korean fried chicken is the one you really have to watch: if a waiter tells you that it's going to be too spicy for you, you must believe him.)
READ: Restaurant Review: Big Tikka Shows Big Promise In Takapuna
We had occasional difficulty making ourselves understood to each other, she and I, and at one point she thought I'd asked her whether they do any off-menu dishes.
They do, as it turns out — a chicken jalfrezi and a variety of vegetarian options — so if you can't see anything on the menu that you like, you have the option of winking knowledgeably and asking what else is good.
But lack of choice isn't the problem here.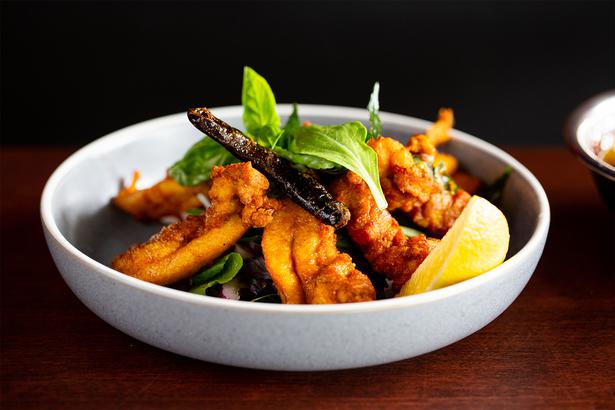 There is a range of shareable starters which suit the third-date crowd assembled on a Friday night, plus the usual selection of pan-Indian curries and a list of grilled treats which are about as distinctive as the menu gets.
The prawns from this section were the best thing I ate all night, hot and juicy with a dusting of masala spices and a bright green mint dip which cooled off some of the chilli.
With them I ordered the Goan chicken — "Indian KFC", according to the owner and it's indeed similar, though better, than the colonel's dirty bird.
Its 11 herbs and spices are unmistakably South Indian and it comes with fried chillis you can choose to crunch or avoid, plus more of that green dip — nice enough, but I hadn't tasted a lot of variety at this point.
Roasted corn sounded good and it was almost there, a bowl of loose kernels tossed in butter and lime with red onion and green capsicum (Indian cuisine is one of the few natural homes of this ordinary vegetable, which has suffered almost a celery-level decline in consumer interest over the past few years).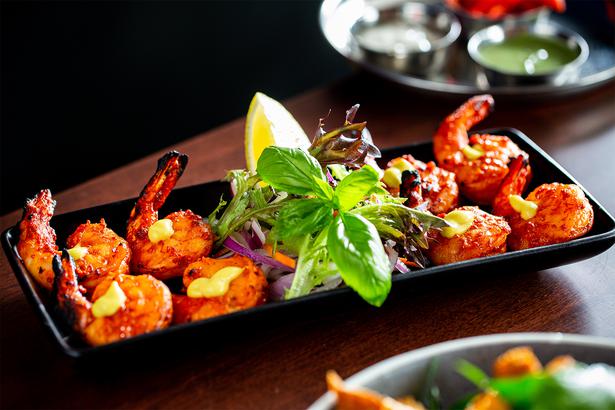 The dish would have been great if the corn had been great but, in late summer and with ears of honey and pearl at every rural roadside stall, Mr Spicer seemed to be heating up frozen stuff out of a bag, with no sign of the promised roasting.
My main was a good-enough lamb vindaloo, the cubes of meat nicely cooked in a gravy thick and red-hot.
In an effort to create a banquet I ordered raita and pickles too, but these were both a bit ordinary and not worth the extra expense.
READ: Jesse Mulligan Reviews Paradise, Sandringham's Most Loved Curry House
Still, I don't think I've ever been unhappy eating a solid curry and I finished my meal pleased with my choices, if not exactly itching to try the desserts.
The most likeable aspects of the restaurant are off the plate — along with my waitress there was a young man I presume to be the owner working hard to troubleshoot, check in on customers and make recommendations if they needed them.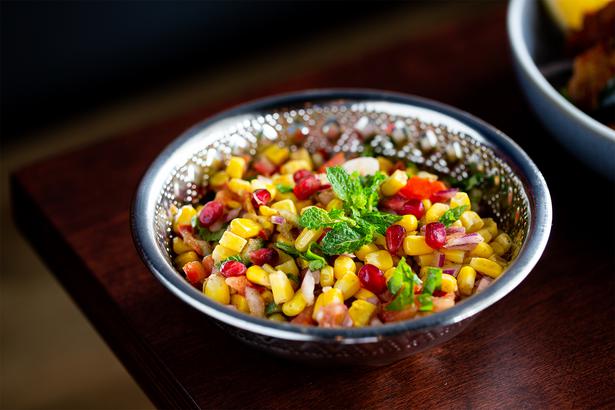 You couldn't call Mr Spicer a bar but there is a nice cocktail menu of which the staff are rightly proud — I ordered a whiskey-based Negroni which knocked me around quite pleasingly, and there were other theatrical creations that had people taking out their phones to film their arrival.
Indian food is my desert island dish and we are very lucky in Auckland to have so many great restaurants serving it up.
Still (and I say this with love) a cool, youthful atmosphere isn't a defining attribute of the genre.
But Mr Spicer does a great job in this respect — though not as hip as Satya Chai Lounge, it is modern and fun enough for Ponsonby Rd and seems to be doing very well if the number of people being turned away at the door is any indication.
It might not be your first choice on a Friday night, but if you end up here there is plenty to enjoy.
Share this: