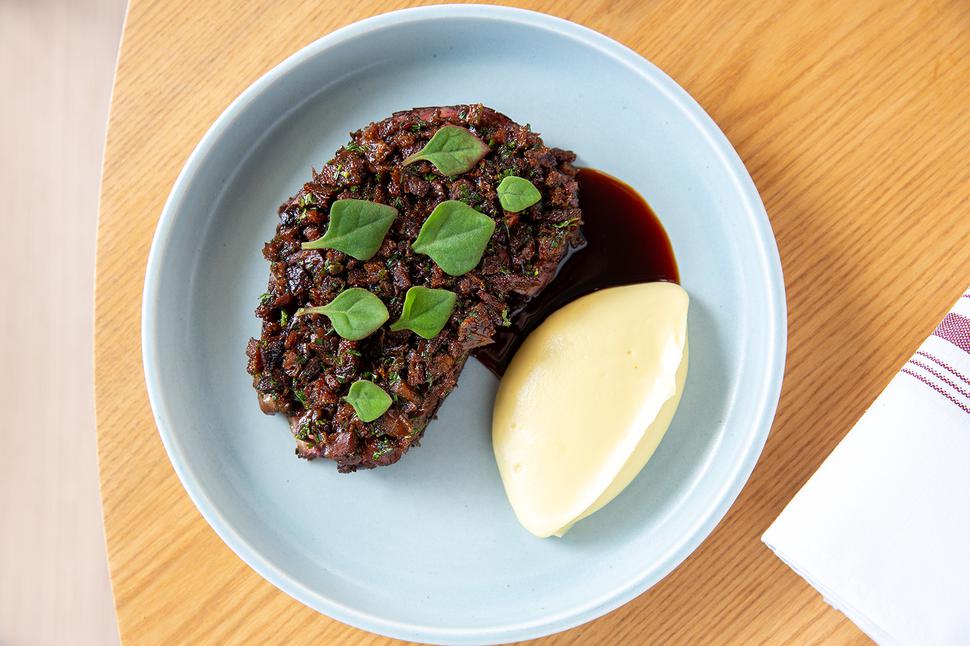 Restaurant Review: Onslow's Patently Handsome Dishes Won't Disappoint
Jesse Mulligan visits Josh Emett's Onslow and delights in the ambience and variety
Thursday Feb. 4, 2021
ONSLOW
Cuisine: Modern bistro
Phone: (09) 930 9123
Address: 9 Princes St, CBD
Drinks: Fully licensed
Reservations: Accepted
From the menu: Crayfish eclair $16; Onslow fried chicken $18; octopus $14; kingfish crudo $22; lamb's tongue schnitzel $18; cured salmon $26; beef scotch $42
Rating: 17/20
Score: 0-7 Steer clear. 8-12 Disappointing, give it a miss. 13-15 Good, give it a go. 16-18 Great, plan a visit. 19-20 Outstanding, don't delay.
Onslow is one of Auckland's grandest restaurants at which to arrive. Upon finding the right apartment building (just down from The Northern Club) I strolled through an expensive-looking lobby, past some expensive-looking sculptures and was led to an outdoor table next to an expensive-looking swimming pool.
That pool was in shade but within half an hour the sun had risen over the right building and three women emerged to test the water.
This makes it possibly the only restaurant in Auckland where you can eat dinner within metres of people in bikinis, though on some nights down at the Viaduct you wouldn't bet against it.
Around then my wife arrived at the restaurant and was led to her husband, who was looking carefully at a small shrub on the other side of the table. "I probably would have planted something a little more established," I said as she sat down.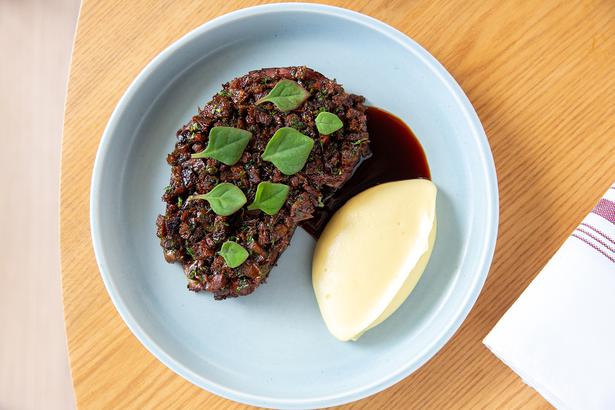 We heard a loud "splash" to our right, which, as I didn't see anything, I can only assume was a steak being dropped into the bain-marie. Possibly via some sort of springboard.
We ordered some snacks, because they looked so good. Degustation dining is going the same way as golf — who has five hours free to commit to it? — but "snacks" are a good middle ground, offering you just a mouthful or two of something rare and expensive before your big plates arrive.
READ: Josh Emett's Coconut Chia Pudding
I love classic restaurant dining, but with all there is to eat nowadays you can feel a bit hard done by if you leave having only tried, say, a bit of tuna and some beef.
At Onslow, without splurging particularly, we ate crayfish, chicken, octopus, salmon, lamb, kingfish and steak.
I like this new mini-trend of serving fine meats with French pastries. After Mr Morris' pain au black pudding last week and a cracking beef "savoury" at Ahi, Mr Onslow served up a crayfish eclair — a perfectly baked little geometrical wonder, with a base and a lid, and, inside, the delicate crustacea flesh mixed with a little dressing.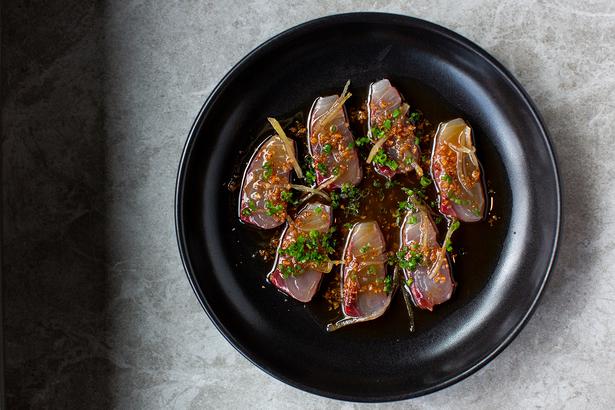 Even when someone's paying for you (perhaps especially when they are) there is an unspoken "anything but the crayfish" rule when choosing from a menu, so offering a comparatively inexpensive taste of it like this is great (some places are now doing pāua snacks on the same sort of principle).
I could take or leave the fried chicken with caviar but loved the octopus — after one too many versions of it sliced thinly or otherwise dismembered beyond recognition, it's lovely to be served a big chunk of it, at once both chewy and tender, flavoured here with fermented chilli glaze, next to a dish of aioli.
READ: World-Class Chef Josh Emett Is Waiheke Island Bistro The Oyster Inn's New Owner
I like Josh Emett's food best when it leans toward the bistro style — I preferred, for example, a crumbed lamb tongue "schnitzel" served with dill fronds, a dusting of bright egg yolk and a dressing spiked with capers and cipollini onions (not sure where he gets these tiny, tasty things but let's hope we see more of them).
I thought the dish was missing a wedge of lemon, but not much else.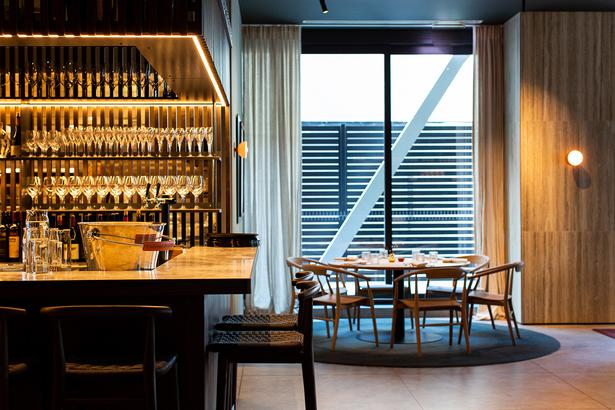 Victoria ordered the salmon trolley, and I love a little tableside theatre, but after being sliced and plated ceremonially the end result looked a little ordinary on the plate, next to pickled cucumbers and a puddle of honey mustard.
It came with toasted rye bread, which is, of course, traditional, but there is so much great bread in Auckland now I found it a bit of a chore to eat.
READ: Inside Josh Emett's Dream Kitchen
But they were back on form with the hot, roasted stuff. My scotch steak was the tastiest piece of meat I can remember eating — so tasty it didn't even matter that it was cooked all the way to medium.
They sous vide the whole section of rib-eye then carve it to order, roasting it in the oven, but not before topping it with mustard, sourdough crumbs and finely diced beef short rib — surely the most intense condiment for a steak anybody has ever conceived.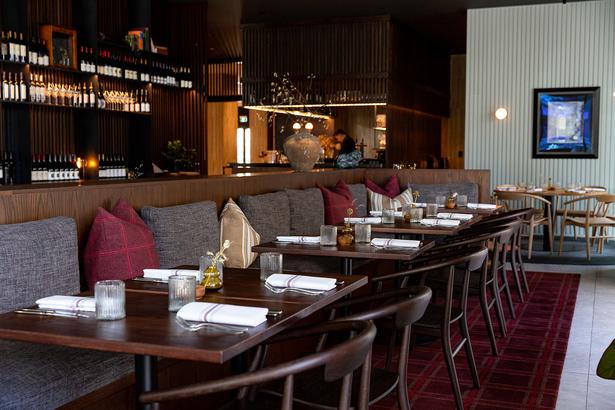 It really works, and is a combo I refuse to google because I prefer to believe that Josh sat upright in bed one night and exclaimed, 'Why can't we season beef rib with a different kind of beef rib?' There is truffle jus too.
I don't think the staff are in danger of breaking any charm records but they are competent and nice. The restaurant is charming enough on its own given the destination, the big city outlook and little extravagances like handmade water glasses.
And somebody's put together a very thoughtful wine list, highlighting in particular the vegan, organic and biodynamic options.
I love that Onslow is both central but also in the middle of nowhere. It's one of those ones you have to visit really, for a new perspective on what Auckland city restaurants can look like, and because Josh Emett is always worth following.
I can't promise you'll see him doing lengths of the lap pool but his cooking is sexy enough that you won't go home disappointed.
Share this: