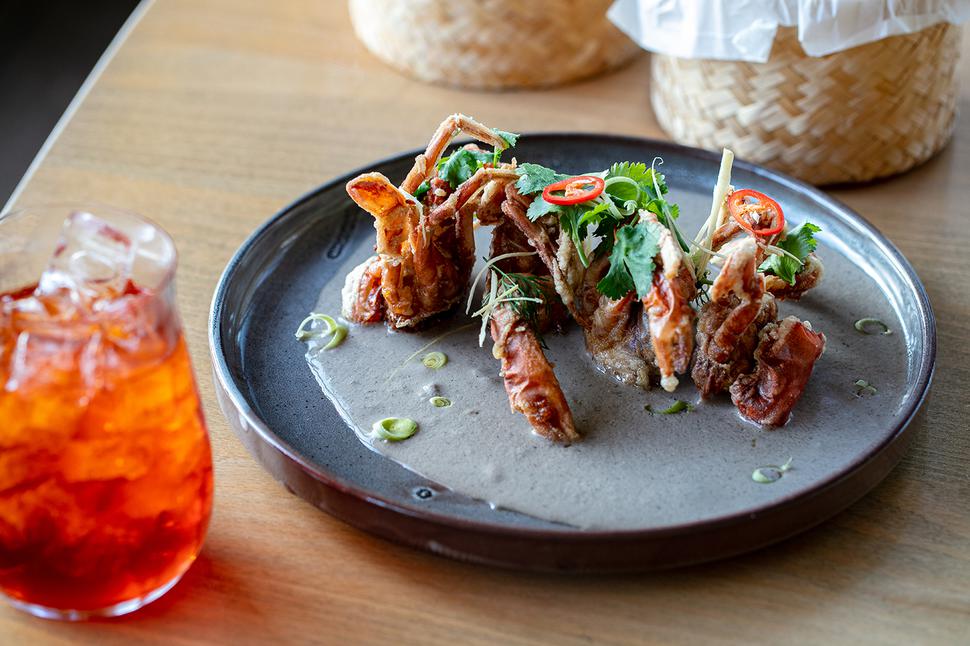 Restaurant Review: The Uncommon Joy Of Saan
At this northern Thai restaurant in Ponsonby, the food is joyous and the staff are joyous in a special emotional micro-climate
Thursday May 13, 2021
SAAN
Cuisine: Northern Thai
Address: 160 Ponsonby Rd, Ponsonby
Phone: (09) 320 4237
Reservations: Accepted
Drinks: Fully licensed
From the menu: Perilla leaf with beef $16; rice crackers with pork $17; soft shell crab $29; dry prawn curry $33; sticky rice $4; green papaya salad $8
Rating: 17/20
Score: 0-7 Steer clear. 8-12 Disappointing, give it a miss. 13-15 Good, give it a go. 16-18 Great, plan a visit. 19-20 Outstanding, don't delay.
Saan wasn't the restaurant I was meant to be reviewing but my first choice turned out to be a washout — an empty bar where the staff don't look up when you arrive and the menu bears little resemblance to the one promised online.
My wife and I had disagreed about whether to bring the car in the first place and I'd ended up having to park about a kilometre away from the restaurant and jog back while she sat alone in a massive room, presumably wondering how it might have worked out if she'd stuck with that boyfriend from high school.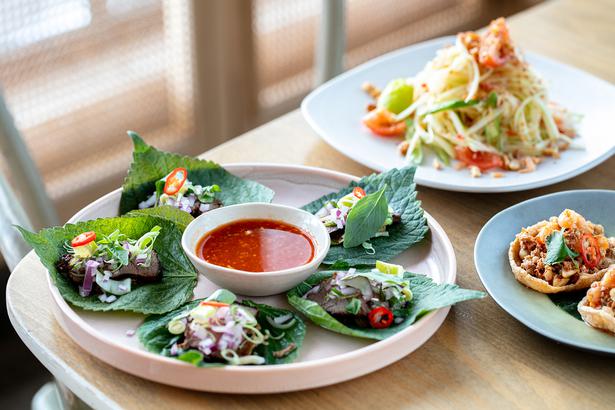 The perilla leaf with beef. Photo / Babiche Martens

When we realised the place was a non-starter we disagreed over how long we needed to stay before we could get up and go somewhere else (her: one drink, me: 11 seconds) and, after doing it her way we hurried hungrily up the street in search of something better.

That's how we stumbled into Saan — and I can tell you that there is perhaps no better room in Auckland to walk into when you're feeling the twin stresses of an empty belly and imminent relationship meltdown. Saan has its own emotional micro-climate — a perfectly lit, almost noir-ish room where you can leave the worries of Ponsonby Rd behind and begin again, like Westworld with sticky rice.

The staff are kind adults who seem as though they have spent their lives preparing for your arrival and there's enough space that you'd be dead unlucky not to get an immediate table or at least have one come up before your tom yum martini is finished.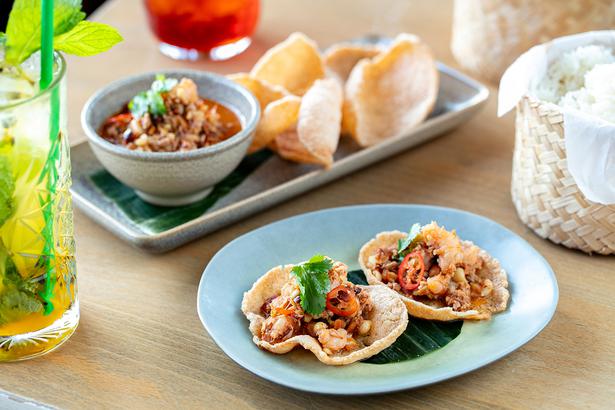 Thai prawn crackers topped with pork and fresh chilli. Photo / Babiche Martens

As a roughneck Hamiltonian I have a natural suspicion toward "branding" — an amorphous marketing concept that seems to make too many people too much money in this part of the city (yes, I'm aware it's a bit rich making fun of soft jobs when I make my living by putting on makeup and reading from a teleprompter). But I think Saan has something that can only be described as a branding problem: the fact that they're on Uber Eats.

READ: Restaurant Review: Jesse Mulligan Visits The Reliable Ponsonby Bistro

When you think about this restaurant you should mentally conjure the low light, the scented air, the warm bonhomie — but instead I picture ordering noodles from a smartphone app, standing in the gutter in the dark waiting for a man on a motor scooter to arrive, then hurriedly wolfing noodles out of a plastic container while my wife watches New Amsterdam.

It's my humble opinion that they should operate under a slightly different name for takeaways and keep the Saan experience pure. And I will deliver my Branding Consultant invoice unto them on the 30th of the month.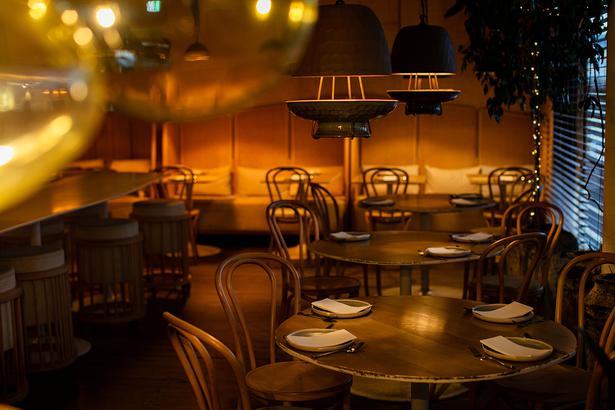 It's worth experiencing the low light, the scented air, the warm bonhomie of Saan. Photo / Babiche Martens

Because when you actually eat here you're reminded that this is not just a good restaurant, but a great one. It's the vibe but it's also the service — everything happens fast and happily, and even the mistakes are quickly corrected.

At one point the waiter walked away without taking Victoria's drink order and I thought, "Oh here we go, it'll be another 15 minutes before we get anybody's attention" but then suddenly he was back to say, "Hey! I'm sorry I took your menu away, what can I get you?" as if he'd just been walking around for the last 30 seconds with a nagging feeling he'd done something dreadful and finally put his finger on what it was.

READ: Jesse Mulligan Reviews Khao San Eatery, Newmarket's Latest Thai Restaurant

The food is smashing, more flavour than you can get anywhere outside of Cassia, with every mouthful a joyful, tropical, delicious adventure. I loved the perilla leaf, sitting under some rare beef and a little pile of crunchy, citrus-y, toasty items that you spoon chilli sauce over and wrap up. Then, even better, was a bowl of northern Thai delights: ground pork, shrimp, peanuts and the familiar blend of tamarind with those warmer massaman spices.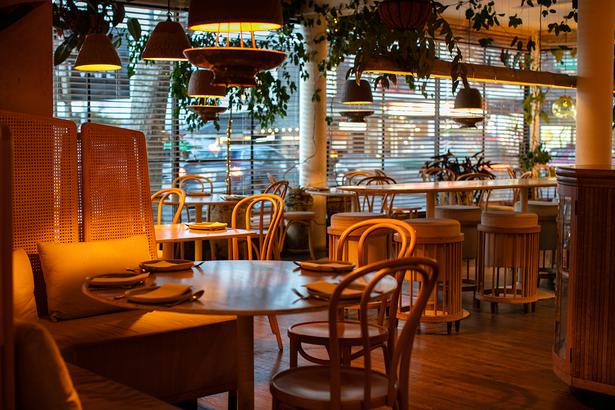 We ordered a dry prawn curry which came with a delicious soupy gravy (I'd hate to see what the wet one looked like). As well as the expensive seafood there were pieces of raw coconut, helping bulk out the curry and add some crunch.
I had some uncertainty as to whether the prawns were undercooked or intentionally kept at that slightly slippery texture but everything tasted so good it wasn't much of a worry. We ate it with the sticky rice, a simple dish but a huge highlight of any Saan meal — make sure you order one, or one each.
The only dud was the papaya salad — though nice to see the original green papaya used here (in some places they use carrot) it was missing all those tastes that make the dish a classic — no sour, no spice, no salt, no sweet, just a wet bowl of shredded fruit.
Boy oh boy, though, what a great restaurant to be reminded of. It looks good for groups but is a brilliant date spot too: we left Saan feeling romantic again, and strolled away towards our distant vehicle, past families queueing for icecream and other lovebirds riding scooters up the street.
Share this: