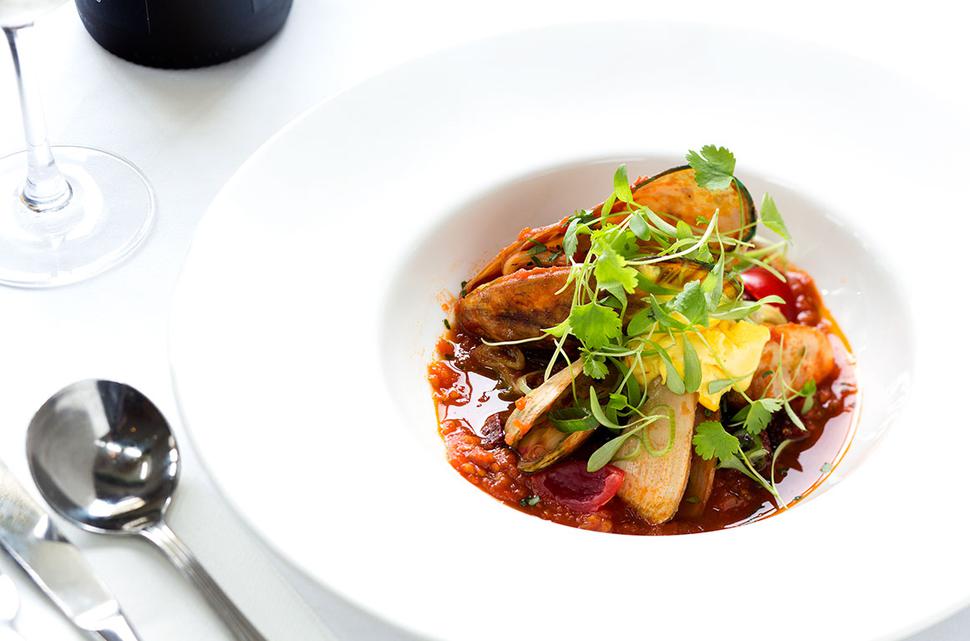 Restaurant Review: United Kitchen
This intimate eatery could be divine with a few tweaks
Wednesday May 27, 2015
Address: cnr Anglesea St and Ponsonby Rd, Ponsonby.
Phone: (09) 360 9139
Cuisine: Modern bistro
From the menu: Shellfish soup, Venison ravioli, Snapper, Wild mushroom gnocchi, Chocolate textures, Persian Love Cake (set three courses, $45)
Drinks: Fully licensed.
Rating: 8/10

When she found out I'd got this job, one of the lovely/scary matriarchs of New Zealand food leaned over to me at a function and said: "I hope you'll use your new position to talk more about the wine that restaurants serve with their food. Reviewers don't do that enough."
I told her I would, knowing I wouldn't. Not that wine service isn't important, it's just that reading about it can get dull, fast. If I go to a restaurant I want the staff to help me find something to drink, but I don't think that you necessarily need to know the name of the wine I eventually choose. If it tastes good and doesn't ruin the food then I'm generally happy to send you here without further elaboration.
Fine dining is an exception — if I'm spending $100 just on food I have extra patience for hearing about how a particular wine will improve which aspect of it, and why. When a chef has worked so hard on every mouthful, it's exciting to see a sommelier putting in the same amount of effort.
I'm telling you this because I think a devoted wine service could really improve United Kitchen, a chef-led dining room at the back of a bar in Ponsonby. You wouldn't call it fine dining — the tastes and ingredients are more bistro style — but the techniques on display are quite cheffy, the presentation is precise and there's a mandatory set menu.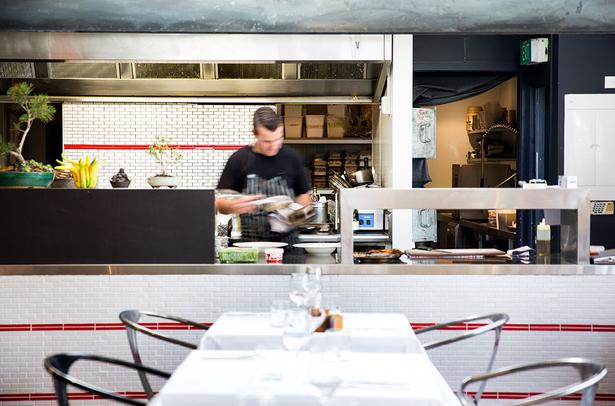 And though the restaurant has plenty of good wine on its list, none of it seems particularly connected to the bits and pieces on the plate.
They charge just $45 for three delicious and substantial courses, prepared in a kitchen you walk right into when you enter through the front door on Anglesea St.
I don't know how they expect to make any money, but perhaps it's a labour of love for the owner, who has attempted high-end dining in a bar backroom once before, at Sale Street. That one was a moderate success, apart from Friday nights when waiters and diners were forced to shout over the organic noises of the heaving meat market behind the velvet curtain.
Anyway, an accompanying set of wines by the half glass might help elevate the specialness of this new little eatery, which sometimes feels like the private dining room it's attempting to be but falters occasionally, too. Like when the door to the noisy main bar opens, or when you ask the server what non-alcoholic drinks they offer and she replies "none".
A lot of special stuff is going on already, though. The chefs work in an open kitchen in front of you and seem to enjoy what they're doing. They come across like super lovely guys, though it's hard to tell for sure because they're too humble to say much. It's a treat having a chef deliver the dish he's just created to your table for you — so why does he scurry away without telling you anything about what's on your plate?
United Kitchen's short menu changes every couple of weeks and contained pretty hearty stuff on the warm night I visited earlier this month: pork belly, venison, pasta and crumble.
I couldn't fault the flavours, though a bit of crisp freshness would have helped throughout. Could they do a few optional vege sides without ruining the set menu concept?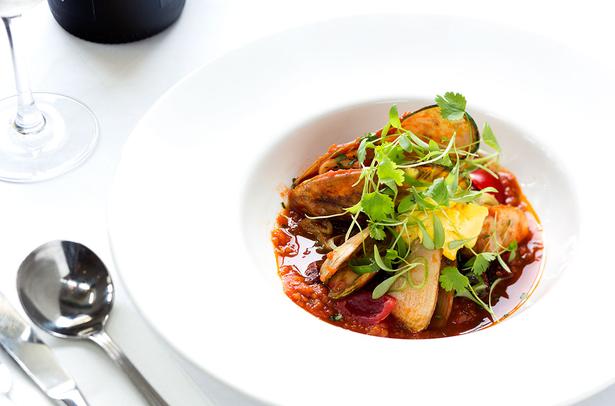 The ravioli was my favourite — soft yellow sheets of pasta wrapped around pulled venison: savoury and rich with sweet balance delivered by an inventive red cabbage puree. Shellfish "soup" had barely enough broth to count as a stew but it was tasty: chorizo and green olives, a handful of seafood and enough saffron flavour to resist any suggestion they're saving money on cheap ingredients.
My wild mushroom gnocchi was tasty and textural, the soft lumps of pasta served with various interesting fungi and Jerusalem artichoke crisps, though a promising sounding herb foam melted into liquid on arrival — "needs more lecithin in the bubble mix," diagnosed a molecular guru I talked to later.
All up there are just three starters, three mains and three desserts, the best of which was the beautifully named Persian Love Cake, a simple pudding served with warmed figs which doubled down on the almond — in the cake and as a prominent flavour in the Amaretto icecream accompanying it.
It's a small dining room but it's often full, showing there's a local appetite for occasion-style food at an accessible price. The head chef is clearly working hard on the menu — just a little more work on the overall experience would put United Kitchen among the top handful of restaurants on this side of town.
Share this:
More Food & Drink / Good for a Date