Rhubarb and Apple Pie Recipe with Crumble Topping
Angela Casley shares her warming rhubarb and apple pie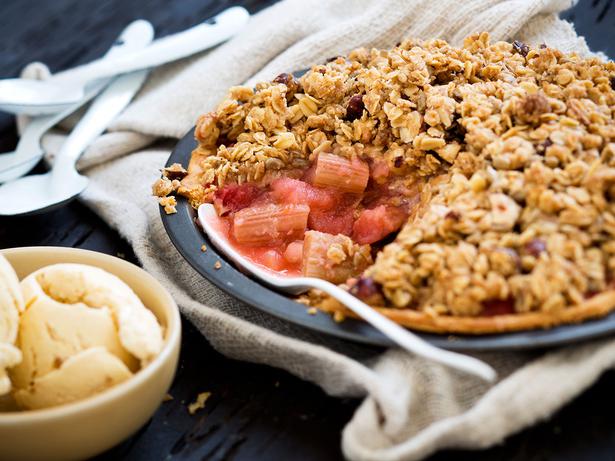 Friday June 13, 2014
RHUBARB AND APPLE PIE WITH CRUMBLE TOPPING
Serves 6-8
• 150g flour
• 2 Tbsp sugar
• 90g butter
• 2-3 Tbsp cold water
Filling
• 4 granny smith apples, peeled and chopped
• 4 stalks rhubarb, cut into 2cm pieces
• 1/3 cup water
• ¼ cup sugar
• Zest of ½ orange
Topping
• ½ cup flour
• 1 cup large oats
• ¼ cup sunflower seeds
• ¼ cup nuts, chopped roughly
• ½ tsp cinnamon
• 60g butter, melted
1. Preheat an oven to 180C.
2. To make pastry, place flour, sugar and butter into a food processor. Blitz until it resembles fine breadcrumbs. Add water and blitz until it starts to form a ball. Place on floured bench.
3. Roll pastry to fit a 24cm x 3cm deep pie dish. Press carefully into dish, cover and refrigerate for 20 minutes. Bake blind in oven for 20 minutes. Remove and add filling and topping.
4. To make filling, place apple, rhubarb and water in a medium-sized pot. Cover and bring to a simmer for 8 minutes until fruit has softened but not lost its shape. Add sugar and zest and stir through. Spoon into pastry case.
5. To make topping, place flour, oats, seeds, nuts and cinnamon in a bowl. Add melted butter and stir through. Spread on top of apple and rhubarb mixture, piling it up to create a crunchy topping.
6. Place into oven for 20-30 minutes until golden. Serve hot with ice cream or whipped cream.
Share this:
More Food & Drink / Recipes