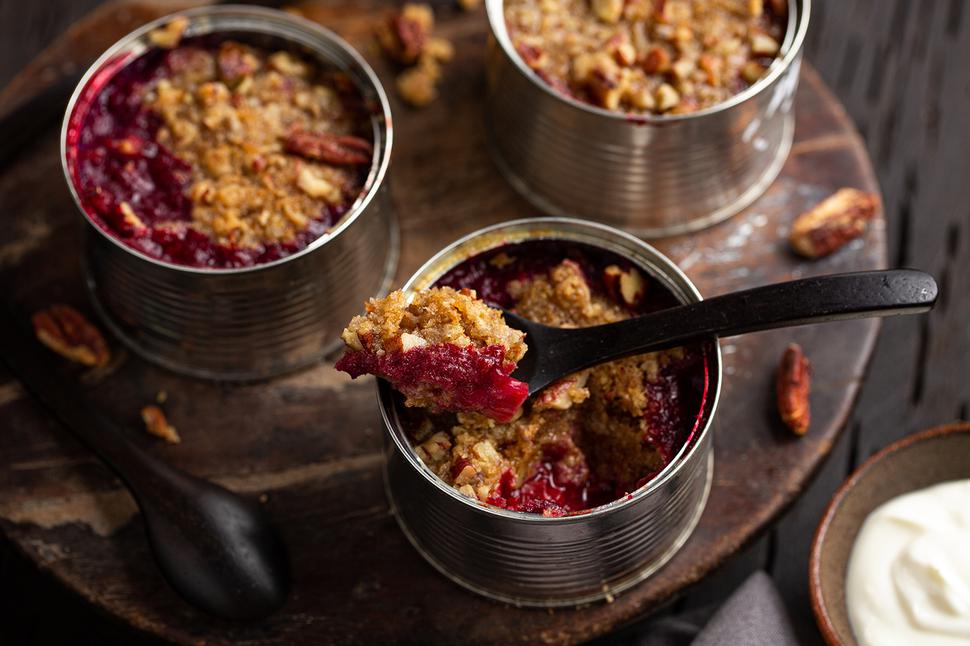 Rhubarb & Raspberry Pecan Crumbles
Look no further than these delectable crumbles for a quintessential winter dessert
Sunday July 18, 2021
It's no problem if you don't have little tins in which to create these gems. You can either use ramekins or make one large crumble. This is also delicious cold the next day.
RHUBARB AND RASPBERRY PECAN CRUMBLES RECIPE
Makes 4
Crumble
2/3 cup plain flour
½ cup brown sugar
100g butter
½ cup pecan nuts (or other)
Fruit
2 cups rhubarb, chopped into 2cm pieces
2 Tbsp orange zest
¼ cup orange juice
½ cup caster sugar
1 cup frozen raspberries
2 tsp cornflour mixed with 1 Tbsp water
Yoghurt or icecream, to serve
1. Place the flour, sugar and butter in a kitchen processor, pulsing until it resembles chunky crumbs. Add the pecans and pulse again 2 or 3 times. Set aside.
2. Put the rhubarb, zest, juice and sugar into a medium-sized pot, slowly bringing to a simmer for 8 minutes or until the rhubarb is softened. Add the raspberries, stirring through gently. When it simmers add the cornflour, cooking until it thickens slightly.
3. Preheat an oven to 180C.
4. Spoon the fruit into 4 x ovenproof dishes, roughly 1 cup in size. Top with the crumble mixture. Bake in the oven for 20 minutes or until crunchy and golden.
Share this: