Rice Pudding Recipe with Orange and Pomegranate
Try this rice pudding recipe for a dessert in a hurry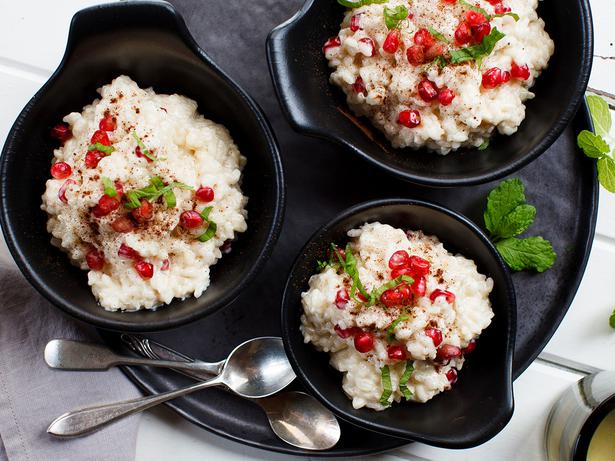 Tuesday Nov. 10, 2015
When you need a dessert in a hurry this rice pudding recipe with orange and pomegranate is perfect. While you relax over your main meal the wonderful smell will permeate your dining room as it cooks slowly on the stove.
With pomegranates in the shops right now, I couldn't help but add half a cup to make it extra tasty. They will not be around for long. It is worth removing the seeds from two or three pomegranates and freezing them ready to add to salads and other dishes when they have gone from our vegetable shops. One pomegranate will give you about one cup of juicy seeds.

ORANGE AND POMEGRANATE RICE PUDDING
Serves 4
• 2 cups coconut milk
• 2 cups milk
• 2 cups short grain rice
• ½ cup sugar
• Zest and juice of ½ orange
• ¼ tsp cinnamon
• ½ cup pomegranate seeds
• Mint leaves to garnish
1. In a medium sized pot place the coconut milk, milk, rice, sugar and orange. Bring to a simmer, then turn down the heat and cook for 30 minutes stirring occasionally until the rice is cooked through.
2. Stir through the cinnamon and pomegranate seeds, reserving a few for garnish.
3. Serve warm, with a garnish of chopped mint.
Share this:
More Food & Drink / Recipes