Ricotta Tart Recipe with Crispy Kale
Fill your tarts with this simple, tasty garlic ricotta mixture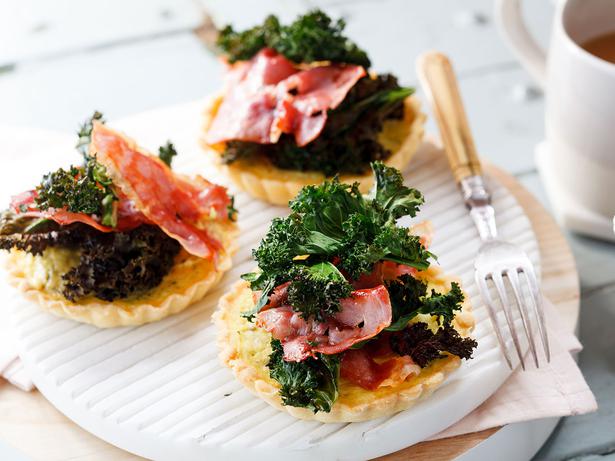 Friday April 15, 2016
Usually I have pastry cases in the freezer and on this occasion I was in luck. They were thawed, then filled with this simple, tasty garlic ricotta mixture and served warm with crispy prosciutto and kale. Be sure to keep an eye on the kale as it is bound to burn the minute you look away.

RICOTTA TART RECIPE WITH CRISPY KALE
Makes 6
Pastry
• 150g flour
• ½ tsp salt
• 100g butter
• 1 egg
Filling
• 250g ricotta
• 1 egg
• 1 clove garlic
• ½ tsp pesto
Topping
• 3 pieces prosciutto
• 100g kale, stalks removed
• Oil for drizzling
1. Preheat an oven to 180C.
2. To make the pastry: place the flour, salt and butter in a processor and blitz until crumbly. Add the egg and mix until a dough forms. Roll on a lightly floured bench. Line 6 x 10cm tart tins. Bake the pastry blind for 15 minutes. Remove.
3. For the filling: mix the ricotta, egg, garlic and pesto in a small bowl. Spoon into the tart shells and bake for a further 10 minutes. Remove.
4. For the topping: cook the prosciutto in a frying pan until crispy. Place the kale on a baking tray and drizzle with olive oil. Bake for 5 minutes until crispy.
5. Serve the tarts warm, topped with crispy prosciutto and kale.
Share this:
More Food & Drink / Recipes