Ricotta, Tomato and Rocket Tart Recipe
This polenta tart is perfect to whip up as a quick lunch dish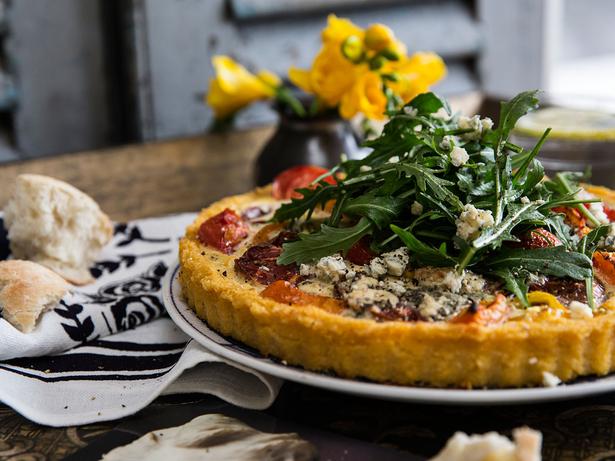 Tuesday Sept. 22, 2015
RICOTTA, TOMATO AND ROCKET TART
Serves 6
• 2 cups stock, chicken or vegetable
• 1 Tbsp butter
• ½ tsp salt
• 1 cup polenta
• ½ cup grated parmesan
Filling
• 2 eggs
• 100g ricotta
• 100g blue cheese
• ½ cup grated parmesan
• Salt and pepper, to season
• 4 tomatoes
• 1 handful rocket
1. Preheat oven to 180C.
2. Place the stock, butter and salt in a large pot. Bring to a simmer then, whisking to prevent lumps, pour in polenta in a steady stream. When the mixture is thick, remove from heat and add parmesan.
3. Spoon polenta into a lined 23cm tart tin. Bake for 20 minutes until set.
4. For the filling, whisk egg with ricotta, half the cheese, parmesan, salt and pepper in a small bowl. Pour into the polenta base.
5. Cut tomatoes into slices and chunks and place on top of filling. Bake for 35 minutes or until filling is just set. Remove and cool slightly before removing from tin.
6. Sprinkle over remaining blue cheese and rocket. Serve warm or cold.
Share this:
More Food & Drink / Recipes