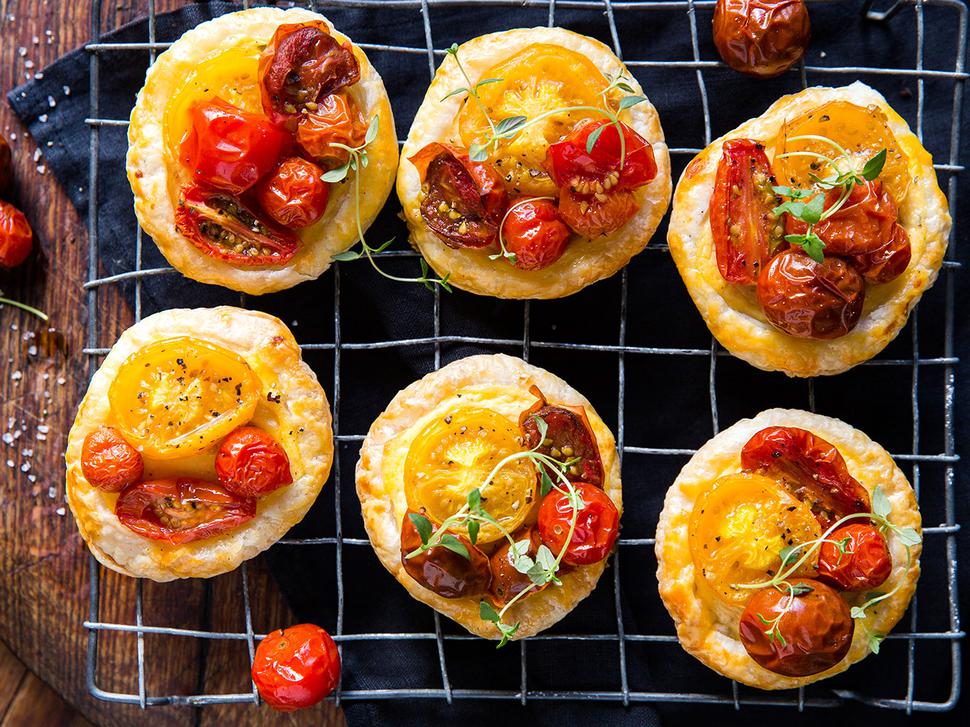 Ricotta & Tomato Tarts
Whip up these speedy mini tarts with the best of the summer's tomatoes
Friday March 2, 2018
Try these speedy mini tomato tarts which make a fabulous lunch or nibble. Roasting the tomatoes helps bring out their amazing sweetness. I usually roast double, or triple, the quantity as I love to add them to salads or on bruschetta with fresh mozzarella.
RICOTTA AND TOMATO TARTS
Makes 8
3 cups fresh mixed tomatoes
2 Tbsp olive oil
1 Tbsp chopped fresh thyme
Salt and freshly ground pepper
400g block puff pastry
1 egg, whisked with a fork

Filling
150g ricotta
1 egg
¼ tsp salt and freshly ground pepper
1. Preheat an oven to 160C.
2. Cut any large tomatoes in half or quarters. Place them on a baking tray. Add the oil, thyme and salt and pepper and toss together. Place into the oven for 40 minutes until softened and squidgy.
3. Turn the oven up to 180C.
4. Roll the pastry on a lightly floured bench. Cut 8 x 8cm discs. With a sharp knife cut a rim 1cm from the edge, without cutting right through. Place the discs onto a flat baking tray lined with baking paper. Brush the edges with egg and prick the centres a few times with a fork. Place into the oven for 15 minutes until puffed and lightly browned. Remove from the oven, you may need to carefully push the centres down. Watch for steam.
5. In a small bowl, combine the ricotta, egg and salt and pepper. Place a little into the centre of each pastry case and smooth with the back of a spoon. Top with tomatoes.
6. Place back into the oven for 10 minutes until the centre is just set. Remove and cool slightly.
7. Serve with a side salad.
Share this:
More Food & Drink / Recipes