River Cottage's Mussels, Leeks and Cider Recipe
Try this tasty recipe for mussels, leeks and cider from Hugh Fearnley-Whittingstall's new book, River Cottage Easy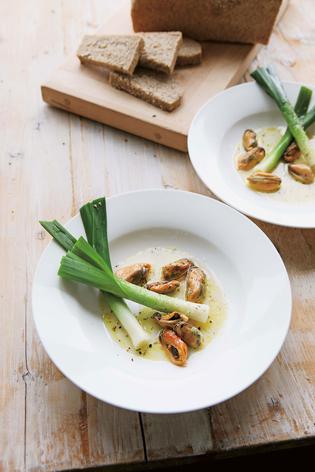 Three is the magic number for the beautiful new cookbook from top British chef Hugh Fearnley-Whittingstall — each of its 175-plus recipes are based around three key ingredients, making them accessible for any home cook.
In River Cottage Easy — a reissue of Hugh's Three Good Things from 2012 — the chef keeps things simple and also anchored around trios. Based on flavour and texture, these combinations include salty, sweet and crunchy; sharp, rich and crumbly; or hot, bland and crisp. Among its many delicious recipes is this one for the mussels, leeks and cider dish pictured left, which Hugh says is "really a mussely version of classic leeks vinaigrette".
MUSSELS, LEEKS, CIDER RECIPE
Serves 2
I love cooking mussels in cider, and often use a leek or two rather than an onion for the base. This version makes a bit more of the leeks. It's really a mussely version of classic leeks vinaigrette and makes a great starter or light lunch.
Ingredients
300g fresh live mussels
About 4-6 small leeks or 10 baby ones, trimmed and washed thoroughly (If you are unable to find small or baby leeks, use about 20 spring onions instead.)
300ml medium dry cider
2 Tbsp olive oil
1-2 tsp cider vinegar
½ tsp thyme leaves (optional)
Sea salt and freshly ground black pepper
Method
1. To prepare your mussels, scrub them thoroughly with a stiff brush under cold running water. Rope-grown farmed mussels are usually very clean, but if you've gathered them, you'll need to use a small, stout knife to prise off any little barnacles clinging to the shells. Pull away the wiry little 'beard' – a bunch of fibres attached to one side of the shell. Discard any mussels with broken shells and any that are open and do not close if you tap them sharply against the side of the sink, as these will be dead.
2. Put the leeks into a large, heavy-based pan (that is big enough to take them pretty much in a single layer and has a tight-fitting lid). Season with salt and pepper and pour over the cider. Bring to a simmer, then cover and cook gently over a medium-low heat for about 6-8 minutes until the leeks are tender. Remove the leeks with a slotted spoon and set aside to cool.
3. Turn the heat up under the pan so the cider is boiling steadily, then add the mussels. Replace the lid and cook the mussels for about 2 minutes, or until all, or almost all, the shells have opened. Discard any that do not open. Tip the mussels into a colander set over a bowl to catch all that lovely, well-flavoured cooking liquor. When the mussels are cool, pick the meat from the shells.
4. In a large bowl, whisk 100ml of the mussel liquor with the olive oil, 1 tsp cider vinegar and the thyme, if using. Taste and add more vinegar, salt and pepper if needed. Add the mussels.
5. Arrange the mussels and leeks on warm plates and spoon over as much of the dressing as you fancy. Serve with warm brown bread.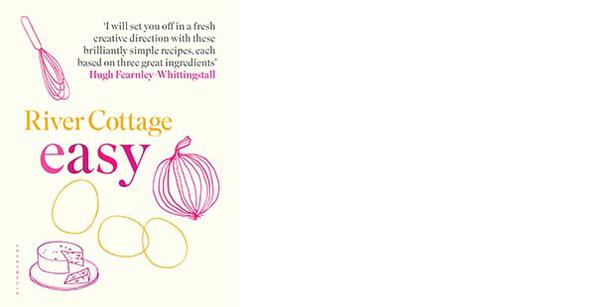 • Recipe taken from River Cottage Easy by Hugh Fearnley-Whittingstall, published by Bloomsbury, $48. Photography © Simon Wheeler
Share this:
More Food & Drink / Recipes