Roast Goat Leg Recipe
The garlic and marjoram gives this roast tasty flavours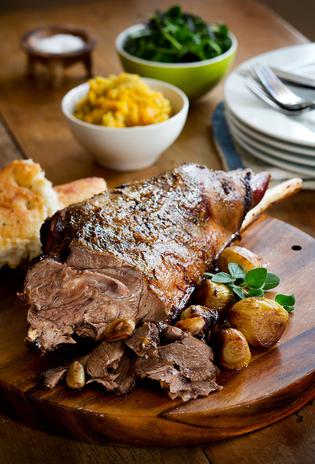 ROAST GOAT LEG
Serves 6
1 x 2kg goat leg - available from Halal butchers
200ml olive oil
Freshly ground black pepper
Salt
1 Tbsp brown sugar
1 tsp chilli powder
Finely grated zest and juice of two lemons
3 bay leaves - preferably fresh
1 bulb of garlic
12 pickling onions
2 cups of red wine
2 Tbsp fresh marjoram or oregano, plus extra to garnish
1. Place the goat leg in a roasting dish. Whisk the olive oil with seasoning, sugar, chilli, lemon juice and zest. Massage over the entire leg then cover and marinate for at least 3 hours.
2. Preheat oven to 170C.
3. Tuck the bay leaves underneath the goat leg. Separate the garlic bulb into cloves and peel. Peel the onions. Place all around the goat then pour over the wine and scatter over the marjoram.
4. Roast for 2 hours and let rest, covered, for 30 minutes before serving. Serve with salad, Turkish bread and yoghurt or a green vegetable and a pumpkin mash.
Share this: