Roast Lamb with Preserved Lemon Recipe
Eleanor Ozich's slow-roasted lamb is perfect for Sunday dinner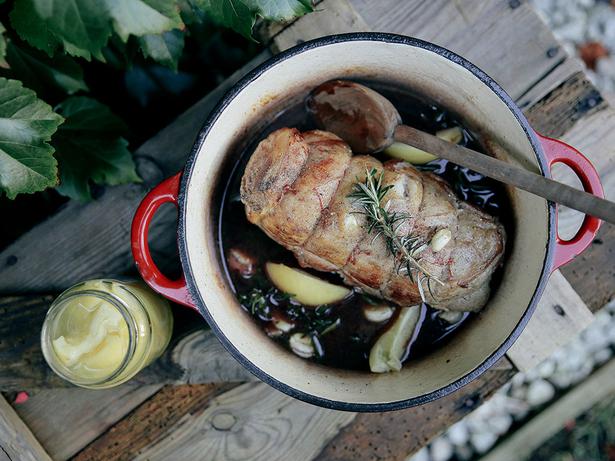 Thursday April 23, 2015
Today I share with you a recipe for roast lamb, inspired by heavenly Greek flavours. The lamb is first seared in ghee or butter and then combined in a cast iron pot with a handful of aromatic flavours: pungent red wine, preserved lemon, earthy rosemary and a whole bulb of garlic.
The lamb is then slow roasted for a few hours in the oven to ensure a beautiful tenderness and rich flavour. This is the kind of recipe that I love to make on a Sunday afternoon while pottering around in the kitchen, preparing for the week ahead.

ROAST LAMB WITH PRESERVED LEMON 
• 3 tbsp ghee or butter
• 1 kilo piece of lamb roast
• 1 cup beef or lamb stock
• 1 cup red wine
• 1 bulb of garlic, each clove peeled and smashed
• 1 preserved lemon, sliced in to quarters
• a large handful of rosemary
• Preheat the oven to 150C.
1. Using cotton cooking twine, tie the lamb roast in 3-4 places to ensure even cooking.
2. Heat the ghee or butter in a large heavy-bottomed pot over a medium-low heat.
3. Sear the lamb for 2-3 minutes on each side until slightly golden, this helps to keep in the moisture while roasting.
4. Pierce the lamb roast in 2-4 places and insert a garlic clove in each hole.
5. Add the stock, wine, remaining garlic cloves and preserved lemon to the pot. Scatter the rosemary on top. Bring to a soft boil, and then carefully transfer to the oven.
6. Roast for 2½ hours, basting every half an hour or so.
7. Remove from the oven, then transfer the lamb on to a chopping board. Leave to rest for 10 minutes before slicing.
8. We like to serve the sliced lamb with a generous drizzle of delicious juices from the pot, steamed green beans and a dollop of natural yoghurt.
• For more from Eleanor Ozich see petite-kitchen.com
Share this:
More Food & Drink / Dinner