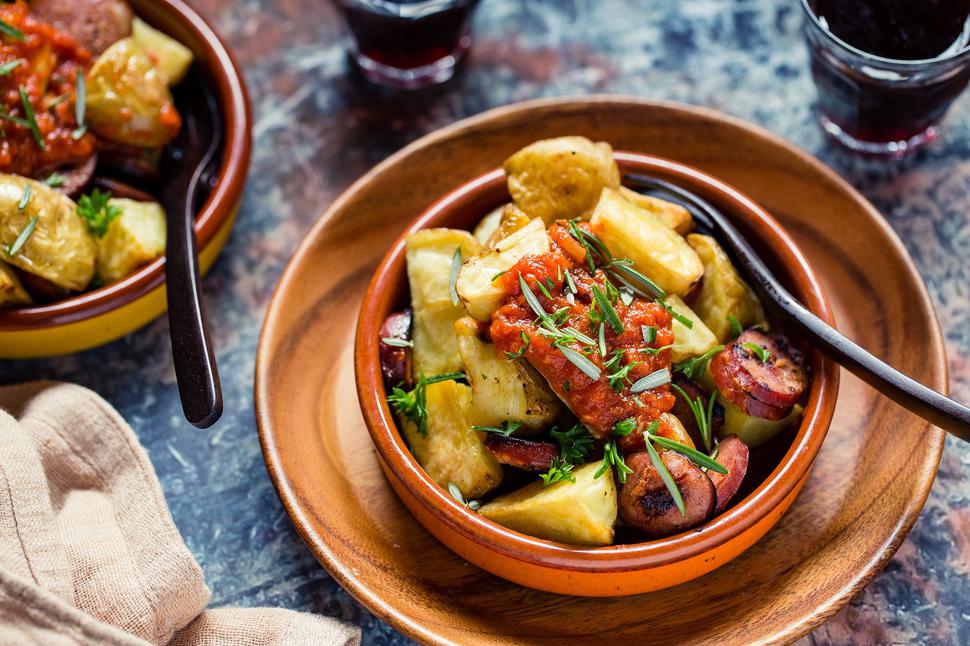 Crispy Potatoes & Chorizo With Spicy Brava Sauce
Try this tasty take on patatas bravas, a Spanish tapas favourite
Thursday Aug. 15, 2019
Many of us will have bag of potatoes in the cupboard. So what could be more delicious than crisping them up with a spicy tomato sauce? The sauce can be made well ahead of time, up to three days for the super organised. It'll be hard not to picture yourself in Spain when eating these.
CRISPY POTATOES & CHORIZO WITH SPICY BRAVA SAUCE 
Serves 6-8
Ingredients
Brava Sauce
2 Tbsp olive oil
2 cloves garlic, crushed
1 small red onion, chopped finely
2 tsp paprika (not smoked)
400g tin chopped tomatoes
2 Tbsp tomato paste
1 tsp brown sugar (optional)
½ tsp chilli flakes
Salt and pepper to taste
Potatoes
800g scrubbed potatoes, cut into 2cm pieces
2 cloves garlic, crushed
2 Tbsp olive oil
1 chorizo, sliced
2 Tbsp chopped fresh rosemary leaves
1. Preheat the oven to 180C.
2. For the brava sauce, heat the oil in a medium-sized pot. Add the garlic and red onion, cooking for 3 or 4 minutes to soften. Stir through the paprika, then add the tomatoes, tomato paste, sugar and chilli flakes. Bring to a simmer for 10 minutes until thick and glossy. Season and set aside.
3. Line an oven tray with baking paper. Add the potatoes and garlic and toss through the oil. Bake for 15 minutes. Then add the chopped chorizo and rosemary and cook for a further 15 minutes or until crisp and golden.
4. Serve the hot potatoes in bowls, topped with warmed brava sauce.
Share this: