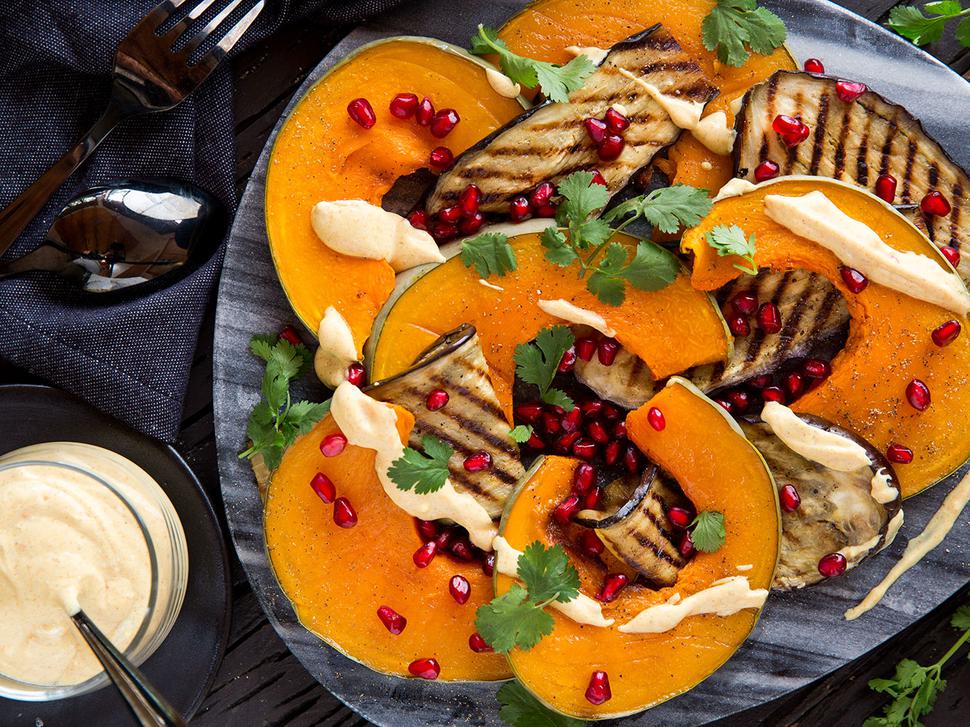 Roast Pumpkin Recipe with Curried Greek Yoghurt
A hearty vegetarian dish that will add vibrant colours and wholesome flavours to your summer barbecue or buffet
Friday Nov. 24, 2017
The colours of this pumpkin and aubergine salad with pomegranate seeds, will look great on any summer buffet table; take it to a pot luck dinner or barbecue on the beach.
ROAST PUMPKIN WITH CURRIED GREEK YOGHURT
Serves 4-6
500g pumpkin, peel and slice into 1cm pieces
¼ cup olive oil
Salt and freshly ground pepper
1 aubergine, in ½cm lengthways slices
¼ cup pomegranate seeds
½ cup coriander leaves
Dressing
½ cup Greek yoghurt
2 Tbsp lemon juice
1 tsp lemon zest
1 tsp curry powder
1 tsp brown sugar or honey
1. Preheat an oven to 180C.
2. Place the pumpkin on a paper-lined baking tray. Rub with 1 tablespoon olive oil and season. Bake in the oven for 25 minutes until soft and golden. Remove and cool.
3. Rub the aubergine slices with oil and cook on a barbecue grill or frying pan until soft.
4. Place the pumpkin and aubergine on a serving platter. Sprinkle with pomegranate seeds and coriander leaves.
5. Combine the yoghurt, lemon juice, zest, curry powder and sugar in a small bowl for the dressing.
Share this: