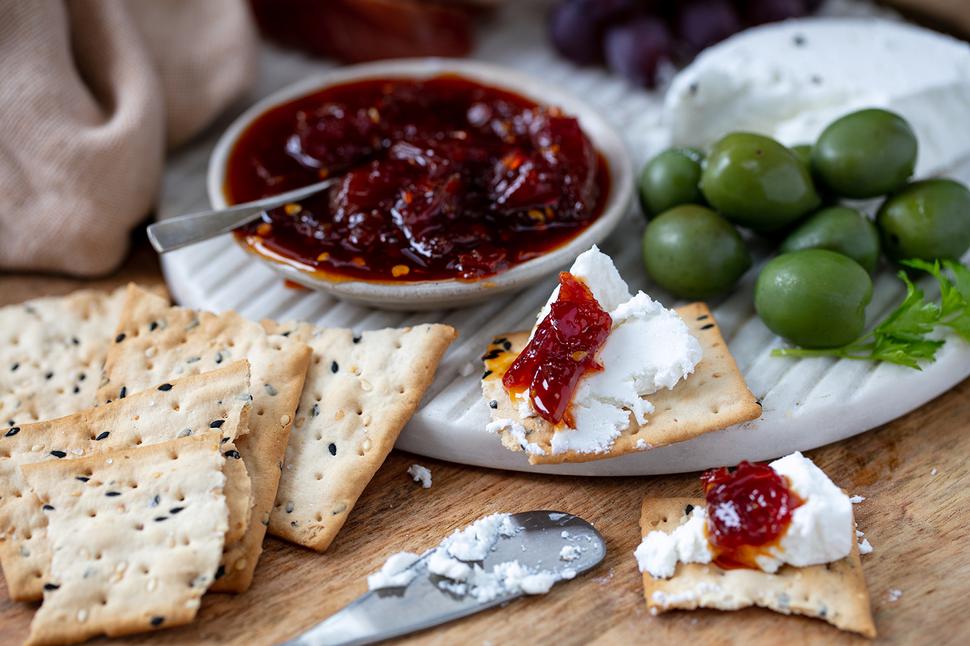 Roast Tomato & Chilli Jam
This bright, spicy jam is a testament to the power of preserves, and goes with just about everything
Wednesday April 21, 2021
We all love a good cheeseboard to snack away on in the evening with a glass of wine in hand. This jam is a delight, and is not only great with cheese but is also beautiful alongside roast lamb or vegetables. It will last for weeks, not that it will get the chance . . .
ROAST TOMATO AND CHILLI JAM RECIPE
Makes 1 cup
10 cherry tomatoes
Olive oil, for drizzling
6 long red chillies, half the seeds removed
4 cloves garlic, peeled and chopped
1 Tbsp grated fresh ginger
Zest of 1 lime
½ cup white vinegar
2 cups sugar
½ cup water
2 Tbsp fish sauce
1. Preheat an oven to 160C. Place the tomatoes on a tray, drizzle with oil and roast for 40 minutes or until soft and squishy.

2. Place the chillies, garlic, ginger, lime and half the vinegar in a blender. Blitz until you have a rough paste.

3. Place the sugar, remaining vinegar, water, fish sauce and paste in a medium-sized pot, slowly bringing to a simmer until the sugar dissolves. Add the tomatoes, bring to a boil and continue to cook until the jam becomes sticky and gloopy. This may take 20 minutes depending on how hard it is boiling. Keep an eye on it. Remove from the heat.

4. Store in jars, and enjoy with your cheeseboard.
Share this: