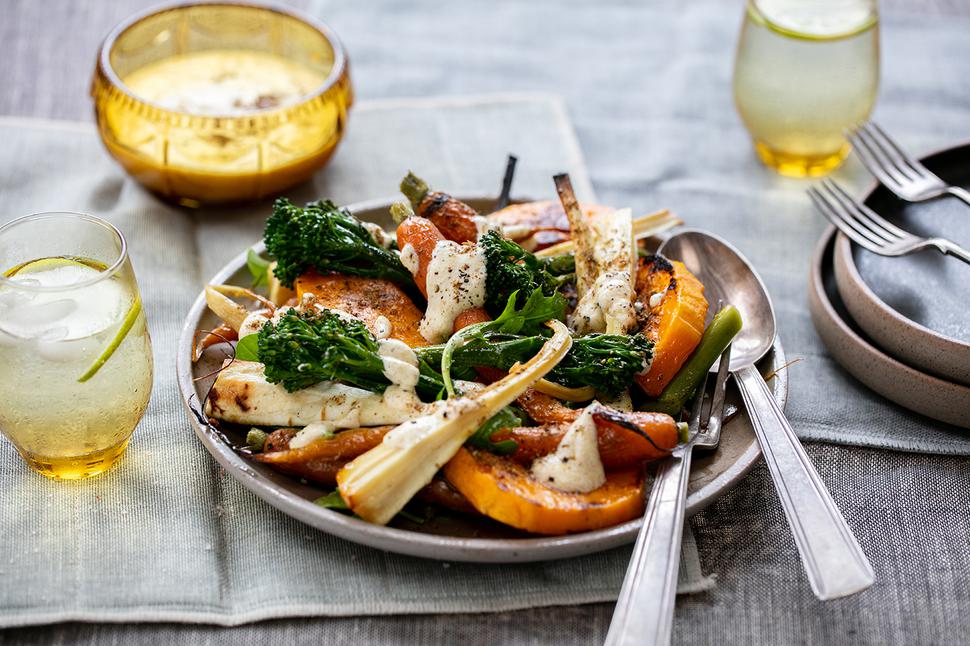 Hearty Roast Vegetables With Burnt Butter Dressing
Savour this smoky, buttery dressing atop butternut, parsnips and baby carrots
Friday April 30, 2021
If you can, make the burnt butter dressing earlier in the day as the flavours get better and better. If you make it a day ahead, leave at room temperature for 30 minutes before serving. You can cook the vegetables on the barbecue if it has a hood. Use a low heat so they don't burn.
ROAST VEGETABLES WITH BURNT BUTTER DRESSING RECIPE
Serves 4
Dressing
75g butter
¼ cup Greek yoghurt
2 tsp runny honey
2 tsp lemon juice
Salad
400g butternut, peeled, cut into slices
3 parsnips, peeled and cut lengthways
1 bunch baby carrots, ends trimmed
3 Tbsp olive oil
1 bunch broccolini
1. Preheat an oven to 180C.

2. Firstly, get the butter into a frying pan over a medium heat for a few minutes until it is foaming and brown. Remove and cool. Beat into the yoghurt, then add the honey and lemon juice.

3. Place the butternut, parsnip and carrots on a lined baking tray. Drizzle over 2 tablespoons oil, toss and bake for 35 minutes until softened and golden.

4. Heat the remaining oil in a frying pan. Add the broccolini, cooking for 4 or 5 minutes until lightly browned and softened.

5. Serve the vegetables with the burnt butter dressing dolloped on top.
Share this: