Roast Winter Fruit Recipe with Port and Spiced Mascarpone
Try this tasty winter warmer recipe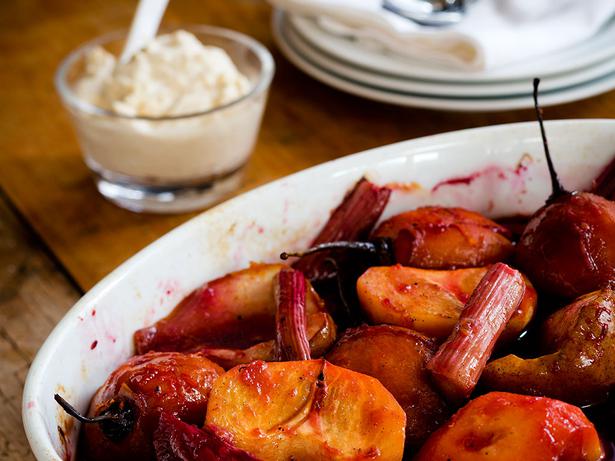 Thursday Aug. 2, 2012
ROAST WINTER FRUIT WITH PORT AND SPICED MASCARPONE
Serves 4 -6
Butter
3 pears
½ cup caster sugar
1 vanilla bean
Zest and juice of two oranges
2 Tbsp water
3 persimmons
4 tamarillos
1 cup port
4 sticks of rhubarb
1 cup mascarpone
1 tsp ginger, crushed
½ tsp cardamom, ground
½ tsp cinnamon, ground
1 tsp honey, warmed
1. Preheat oven to 170C. Grease a baking dish with butter. Halve the pears and remove the cores. Put into the dish, hollow side up. Sprinkle with sugar and dot each with ½ a teaspoon of butter.
2. Split the vanilla bean and scrape the seeds over the pears. Tuck the bean into the dish. Sprinkle over the orange zest and juice. Add the water. Cover tightly with a lid or use foil and roast for 45 minutes.
3. Peel and halve the persimmons. Peel the tamarillos but keep whole. Add both to the roasting dish with the port. Recover and return to the oven.
4. Cut the rhubarb into 10cm lengths. Increase the oven temperature to 200C. Uncover and add the rhubarb, spooning the juices around. Return to the oven for 15 minutes, uncovered.
5. Serve hot with the spiced mascarpone; stir the mascarpone together with the ginger, spices and honey.
Share this:
More Food & Drink / Lunch