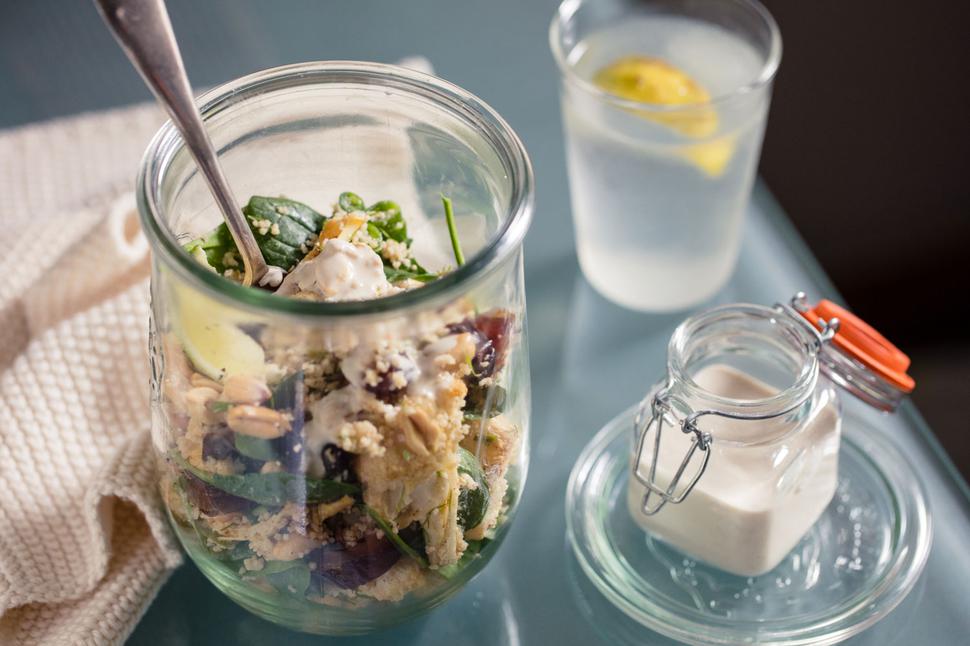 Roasted Cauliflower & Couscous Salad With Tahini Dressing
This budget-friendly salad is tasty enough to enjoy on its own, or goes great with any leftovers you may have
Friday July 13, 2018
A little couscous can go a long way. Prepared in minutes, it often appears on our table alongside a slow-cooked dish or as a last-minute salad. In this recipe, I have added roasted cauliflower, dates for a little sweetness and freshly roasted peanuts. Add a bit of leftover protein from the night before, maybe shredded chicken or fried halloumi for a more substantial meal.
ROASTED CAULIFLOWER & COUSCOUS SALAD RECIPE
Serves 4
3 cups cauliflower florets
2 Tbsp olive oil
½ tsp each ground cumin and coriander
2 cups boiling water
1 cup wholemeal couscous
¾ cup dried dates, cut into thirds
3 cups shredded spinach
½ cup chopped roasted peanuts
Salt and freshly ground pepper to taste
1 lemon or lime, cut in wedges
Dressing
¼ cup tahini
¼ cup lemon juice
½ tsp cumin
2 tsp runny honey
2 Tbsp water to combine
1. Preheat an oven to 180C.
2. Line an oven tray with baking paper. Spread out the cauliflower. Sprinkle with oil, cumin and coriander and toss. Place into the oven for 25 minutes until roasted. Remove and cool.
3. Place 2 cups of boiling water in a large bowl. Pour in the couscous, cover for 10 minutes then fluff with a fork.
4. When the couscous is cold, add the dates, spinach, peanuts and cauliflower, tossing together. Season, and squeeze over lemon.
5. To make the dressing, in a small jar shake together the tahini, lemon juice, cumin, honey and water until smooth. Pour over the salad and serve.
Share this: