Roasted Cauliflower Recipe with Golden Raisin Dressing
Add a subtle sweetness to roasted cauliflower with a delightful dressing mixture of golden raisins, apple and pine nuts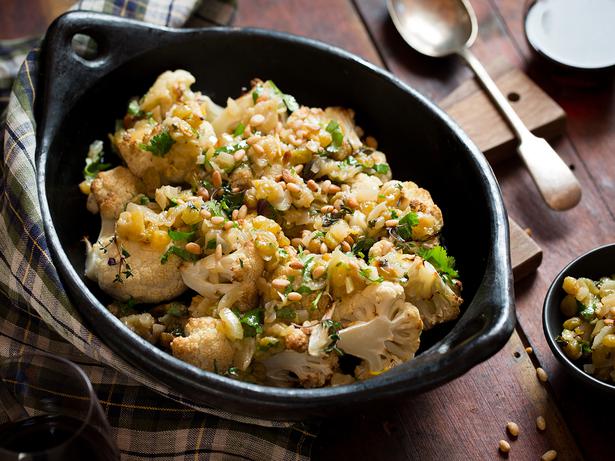 Friday Sept. 29, 2017
Cauliflower, like brussels sprouts, is another common vegetable chefs are now innovating with, giving it a new lease of life. Roasted cauliflower is delicious, and a lovely way to add a little sweetness is to include golden raisins, which add a subtle touch. Mixed with softly cooked apples and lemon the flavour is delightful.
ROASTED CAULIFLOWER WITH GOLDEN RAISIN DRESSING
Serves 4-6
1 cauliflower, cut into pieces
¼ cup olive oil
½ onion, finely chopped
1 apple, peeled and cut into small cubes
100g golden raisins
1 Tbsp lemon zest
¼ cup apple cider vinegar
1 Tbsp thyme leaves
¼ cup toasted pine nuts
2 Tbsp chopped parsley
1. Preheat an oven to 180C. Line a baking tray with paper.
2. Place cauliflower on tray. Sprinkle over 1 tablespoon oil and roast for 30 minutes.
3. Heat the remaining oil in a small pot. Add onion and cook until softened, about 3 minutes. Add apple, raisins, lemon zest, vinegar and thyme. Cook over a low heat for 10 minutes until the apple is completely soft. If needed add a little water or lemon juice.
4. To serve place cauliflower into a large platter. Spoon over the raisin mixture. Sprinkle with nuts and chopped parsley.
Share this:
More Food & Drink / Recipes