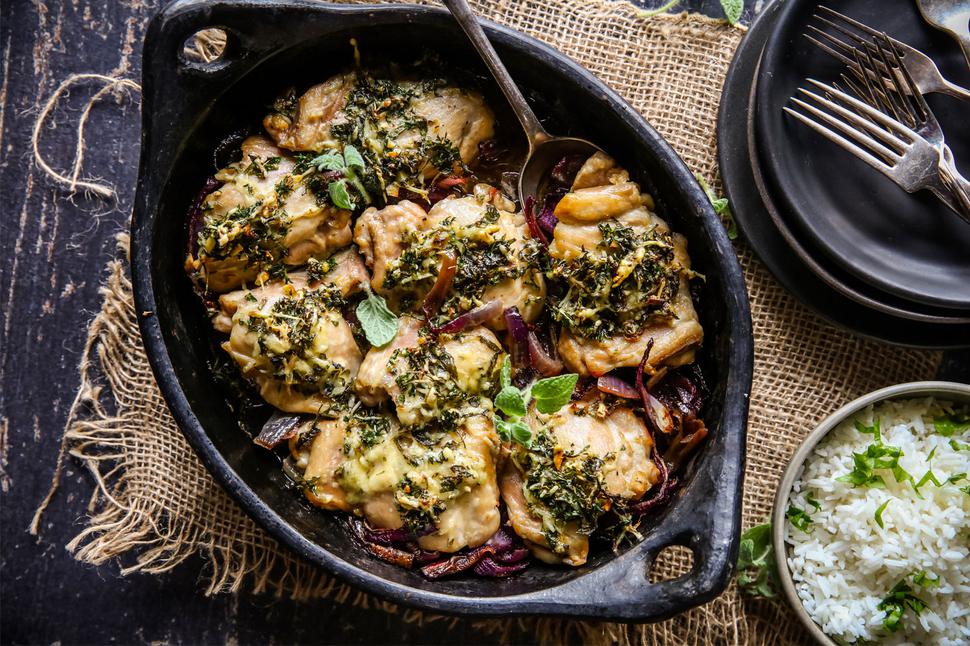 Roasted Chicken Thighs With Oregano Parmesan Paste
Put this succulent dish on your weekly recipe rotation, stat
Friday Aug. 17, 2018
Oregano is one herb that has been flourishing in the garden over the cooler months, hence the use of it in this simple chicken recipe. I prefer to cook with organic chicken, and often stock up when it is on sale and pop it in the freezer. Serve this dish with steamed rice and a fresh green vegetable on the side. Tasty and simple.
ROASTED CHICKEN THIGHS WITH OREGANO PARMESAN PASTE RECIPE 
Serves 4
1 cup oregano leaves
¼ cup Italian parsley leaves
1 cup grated parmesan
¼ cup olive oil
Salt and freshly ground pepper
1 Tbsp olive oil
2 red onions, sliced
3 garlic cloves, crushed
2 Tbsps balsamic vinegar
1 cup chicken stock
8 boneless and skinless chicken thighs
Extra olive oil to drizzle
Rice to serve
1. Preheat an oven to 180C.
2. Place the oregano leaves, parsley, parmesan and olive oil into a kitchen processor. Pulse until all are well combined. Season with salt and pepper.
3. Heat the remaining oil in a frying pan. Add the red onions and garlic, cooking slowly for 10 minutes to soften. Add the balsamic and chicken stock, stirring through.
4. Spread the onion mixture into an ovenproof baking dish. Place the chicken thighs on top, snuggling them among the onions. Place a spoon of the oregano mixture on to each thigh.
5. Drizzle over a little extra olive oil, cover and place into the oven for 40 minutes, removing the cover after 20. Serve hot with rice or mashed potatoes.
Share this:
More Food & Drink / Recipes