Roasted Fig Tarts Recipe with Meringue
Try this delciously sweet combination for an irresistable dessert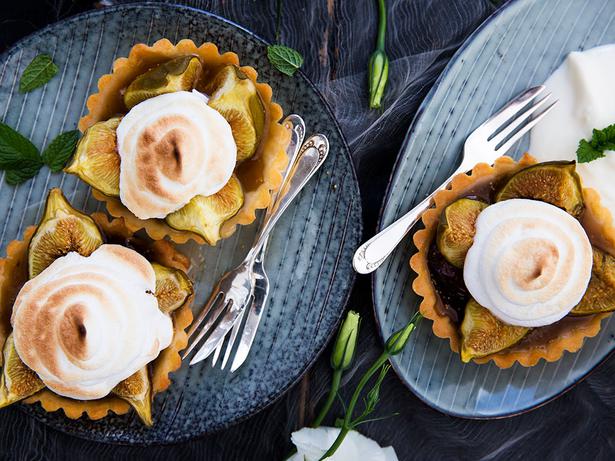 Tuesday March 17, 2015
ROASTED FIG TARTS WITH MERINGUE
Makes 6
Pastry
130g flour
¼ cup icing sugar
100g butter
1 egg yolk
Filling
6 ripe figs
1 Tbsp honey
Juice of ½ orange
½ cup fig jam (recipe below)
Meringue
½ cup sugar
¼ cup water
2 egg whites
Greek yoghurt to serve
1. Preheat oven to 180C.
2. Place flour, icing sugar, butter and egg yolk in a food processor. Blitz until dough is just sticking together. Tip on to a lightly floured bench and knead to combine well. Roll your dough and line 6 x 10cm tins. Line dough with baking paper and rice. Bake for 15 minutes then remove paper and finish for a further 5 minutes. Allow to cool.
3. Cut figs in quarters but not right through. Place into a small baking dish. Drizzle over the honey and juice. Bake for 20 minutes until softened. Remove and cool.
4. To make meringue, place the sugar and water in a small saucepan. Bring to a simmer and cook until you have a thick syrup. Beat egg whites until stiff. Slowly add syrup while the beater is on. Continue to beat until the mixture is glossy and cool.
5. Place 1 tablespoon of jam into base of each tart. Add a fig, opening it out slightly. Pipe the meringue on top or dollop with a spoon.
6. Preheat grill to high. Place tarts under grill for 30 seconds to brown the meringue. Keep an eye on them, as this will happen quickly.
7. Serve warm or cold with some Greek yoghurt.

FIG JAM
Makes 6 cups
1kg figs roughly chopped
1kg jam setting sugar
20g butter
Zest of 1 lemon
1. Place sugar and figs in a large pot. Heat slowly, stirring occasionally until the sugar has dissolved. Add butter and zest then bring to a rolling boil for 10-15 minutes.
2. Place a little jam on to a saucer to test for doneness. If it is sticking to the back of a teaspoon is it ready.
3. Pour into sterilised jars and seal.
Share this:
More Food & Drink / Desserts