Sweet Roasted Grape Chicken Recipe
Each Thursday Eleanor Ozich of Petite Kitchen will share her thoughts on healthy eating, with recipes and more.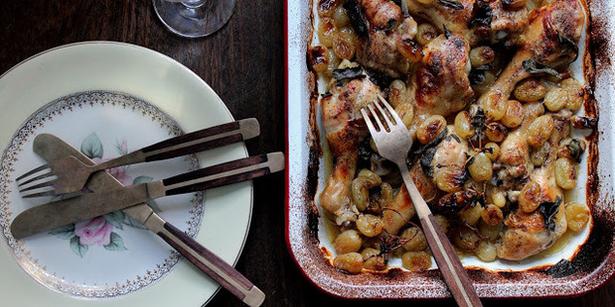 Friday March 14, 2014
This beautiful aromatic roasted chicken is baked with grapes, sage and white wine. It's incredibly simple to prepare and the resulting flavours are truly wonderful, with tender, moist meat and a sticky, sweet, syrupy grape sauce, which is lovely spooned over your favourite vegetable mash. This dish comes together quickly, making it an excellent weeknight choice, but it's also fancy enough to impress company.

SWEET ROASTED GRAPE CHICKEN WITH WHITE WINE & SAGE
Serves 4
• 8-10 free-range chicken drumsticks
• Large bunch of grapes, rinsed
• 1 bulb of garlic, each clove smashed
• 1 wine glass of white wine (I used pinot gris)
• Good drizzle of extra virgin olive oil
• Large handful of fresh sage
• Sea salt
• Pepper
1. Preheat oven to 180C.
2. In a large baking dish, arrange chicken, grapes and garlic.
3. Pour over white wine and drizzle with olive oil. Sprinkle with a large pinch of salt and pepper, then scatter sage on top.
4. Bake in oven for around 60 minutes or until lovely and golden. Baste chicken halfway through cooking. To test if chicken is cooked, insert a fork or skewer into the thickest part of the meat - the juice should run clear.
*dairy free
*gluten free
Share this: