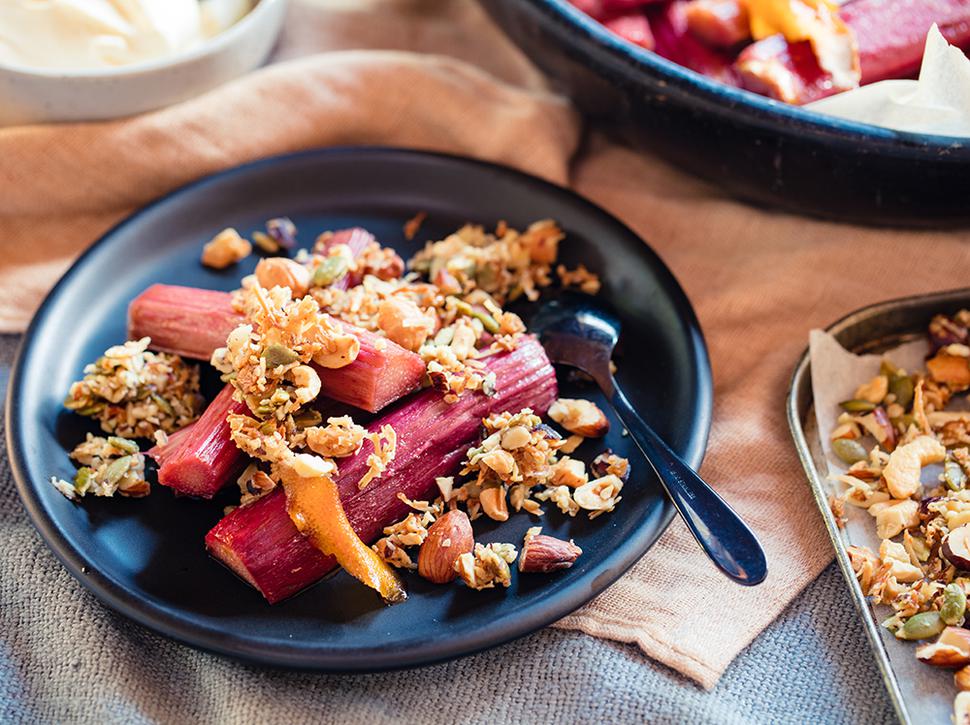 Roasted Rhubarb & Nut Crumble
Give the humble crumble a tasty update with this sweet recipe
Friday Aug. 31, 2018
The humble crumble is given a fresh new edge with this nutty topping which has plenty of crunch and flavour. The hazelnuts and cashews form a good base with coconut oil, and malt syrup sticks it all together and adds the desirable sweetness. The crumble can be made ahead of time and stored for use later if need be — or you could sprinkle it on a fruit salad.
ROASTED RHUBARB & NUT CRUMBLE RECIPE
Serves 4-6
Crumble
½ cup hazelnuts
½ cup raw cashews
½ cup almonds
½ cup pumpkin seeds
1 cup shredded coconut
½ tsp cinnamon (optional)
3 Tbsp coconut oil
2 Tbsp malt syrup (or honey)
Rhubarb
6 stalks rhubarb, cut into 10cm lengths
¼ cup caster sugar or honey
2 Tbsp orange zest
½ tsp ground cardamom
¼ cup orange juice
1. Preheat an oven to 160C. Line a baking tray with paper.

2. In a large bowl combine the hazelnuts, cashew, almonds, pumpkin seeds, coconut and cinnamon.

3. In a small bowl melt the oil and malt syrup for 1 minute in the microwave. Pour over the nuts and stir well. Spread on your baking tray and place in the oven for 25 minutes, stirring regularly so it does not burn. Remove and cool.

4. Turn the oven to 180C.

5. In a lined baking dish place the rhubarb. Sprinkle over the sugar, orange zest, cardamom and juice. Bake in the oven for 20 minutes or until a knife will insert easily. Depending on the thickness of your rhubarb it may take longer.

6. Serve with a generous sprinkle of crumble and lightly whipped cream.
Share this: