Roasted Salmon Recipe with Red Pepper Sauce
Eleanor Ozich shares a delicious roasted salmon recipe topped with basil and capers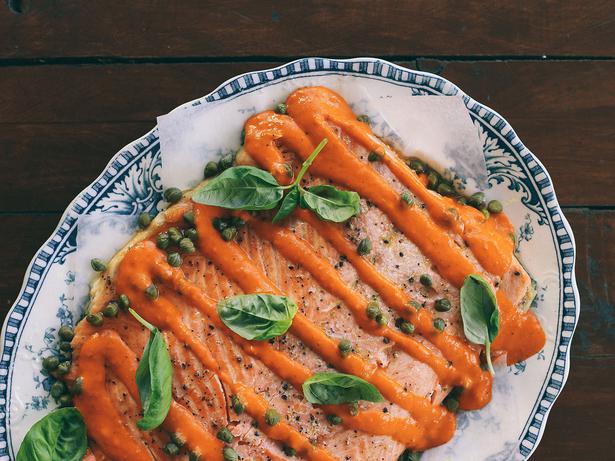 Thursday Oct. 15, 2015
Basil is red pepper's best friend. The two together, especially when paired with a little olive oil and garlic, is the absolute essence of the Mediterranean. In this summery dish, the deep sweetness of the roasted pepper sauce is exceptional drizzled over delicate roasted salmon. Serve warm with a green salad and crusty sourdough bread.

ROASTED SALMON RECIPE WITH ROASTED RED PEPPER SAUCE, BASIL AND CAPERS
• 1 side of salmon, skin on, bones removed
• 1 cup white wine or vegetable stock
• Olive oil for drizzling
• A handful of fresh basil leaves
• ¼ cup capers
Sauce
• 3 red peppers/capsicums
• ½ cup extra virgin olive oil
• 3 cloves of garlic, peeled
• 1 Tbsp honey or maple syrup
• ½ tsp smoked paprika
• sea salt & pepper
1. Preheat the oven to 180 C.
2. Place the whole capsicums in a small baking dish, and drizzle with a little olive oil.  Roast the capsicum in the oven until starting to blister, about 30 minutes.
3. Meanwhile you can prepare the salmon.
4. Place the salmon skin side down in to a large baking dish. Pour the white wine or vegetable stock on top, drizzle well with olive oil, and then season generously with sea salt and freshly ground pepper.
5. Bake the salmon in the oven for 20 minutes, or until just cooked through. Remove form the oven and leave to cool slightly.
6. To make the sauce, add the roasted capsicum in to a blender along with the remaining ingredients, and blend until smooth . Season to taste with sea salt and freshly ground pepper.
7. To serve, transfer the salmon to a serving dish, drizzle with the red pepper sauce, then scatter the basil and capers over the top.

• For more from Eleanor Ozich see petite-kitchen.com  
Share this:
More Food & Drink / Recipes