Roasted Stuffed Onions Recipe
Angela Casley pulls a winner onion recipe from her archive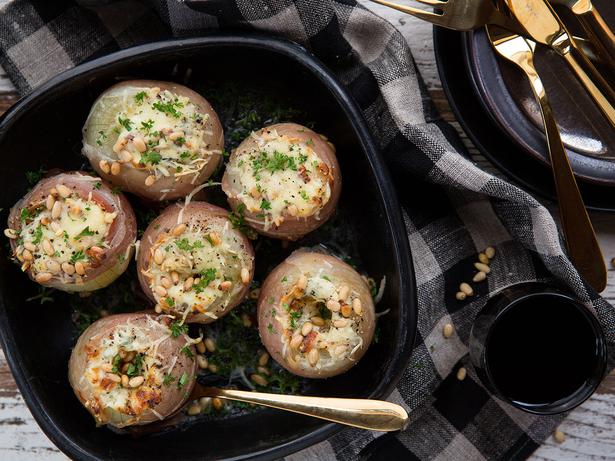 Friday June 16, 2017
This stuffed onion recipe was another good find in a scrapbook. I've given prosciutto as an alternative to bacon. And parmesan would have been ridiculously expensive back then, so tasty cheese it was.
ROASTED STUFFED ONIONS RECIPE
Serves 4-6
6 medium-sized onions, peeled. with the core in
8 slices prosciutto or streaky bacon
2 cloves garlic, crushed
1 cup grated parmesan
1 egg yolk
¼ cup cream
1 tsp chopped thyme
¼ cup toasted pine nuts
Salt and freshly ground pepper
1. Into a large pot of salted water, place the onions. Bring to a simmer and cook for 15 minutes until a knife will insert easily. Remove, drain from the water and cool.
2. While the onions cool, into a small bowl place two pieces of chopped prosciutto or bacon, the garlic, parmesan, egg yolk, cream, thyme, 1 Tbsp pine nuts, salt and pepper combining well.
3. Using a small knife, cut around the inside of the onion and remove the centre.
4. Preheat an oven to 180C.
5. Wrap a piece of prosciutto around each onion. Fill the cavity of each with your cheesy mixture, then place into a smallish baking dish. Pour the remaining cream around the base of the dish and sprinkle over the remaining pine nuts. Place into the oven for 30 minutes until golden and delicious.
Share this:
More Food & Drink / Recipes