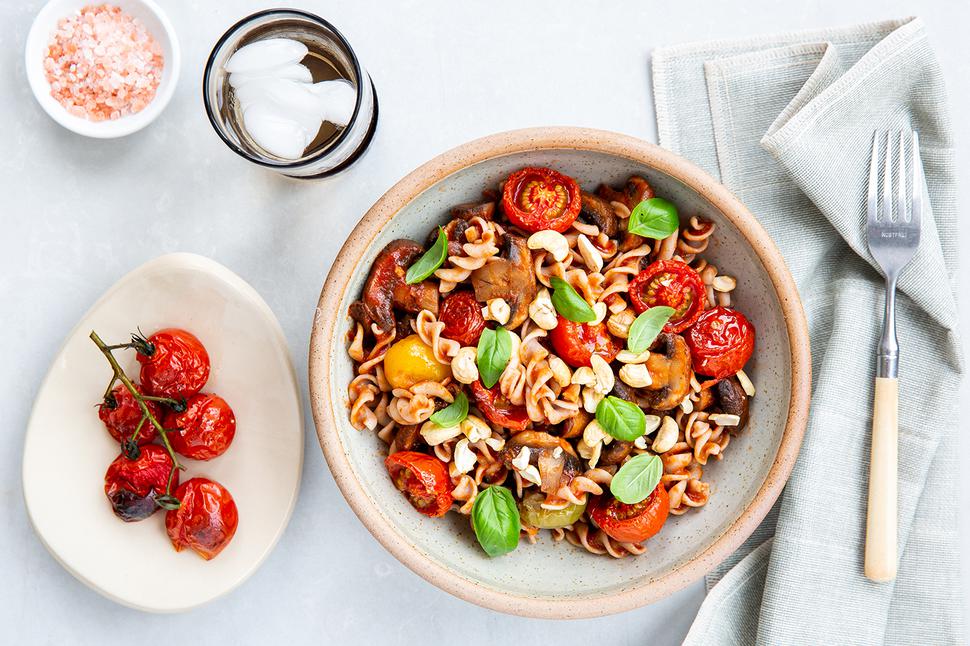 Roasted Tomato Pasta With Cashews Recipe
There's comfort and plenty of cashews to be found in this hearty pasta dish
Saturday Feb. 27, 2021
Make the most of fresh tomatoes while they are in their prime. Gently roasting them brings out the sweetness, making a simple sauce sing. Any tomatoes will work. Chop bigger ones into quarters and they will all cook around the same time.
ROASTED TOMATO PASTA WITH CASHEWS
Serves 4
2 cups small tomatoes
1 Tbsp olive oil
Salt and pepper, to season
Sauce
2 Tbsp olive oil
1 onion, chopped
2 cloves garlic, crushed
200g sliced mushrooms
500ml passata
1 tsp balsamic vinegar
1 cup basil leaves
300g buckwheat spirals
½ cup toasted cashew nuts, roughly chopped
1. Preheat an oven to 160C.
2. Place the tomatoes in a roasting dish with the olive oil, salt and pepper, then roast for 40 minutes. Remove.
3. To make the sauce, heat the oil in a medium-sized pot. Add the onion and garlic, cooking to soften. Add the mushrooms, cooking them down for 4 or 5 minutes.
4. Stir through the passata, balsamic vinegar and basil leaves, cooking for 10 minutes until thickened. Gently stir through the roasted tomatoes.
5. Cook the buckwheat pasta as per packet instructions.
6. To serve, stir the sauce through the pasta, then top with toasted cashews and a few extra basil leaves.
Share this: