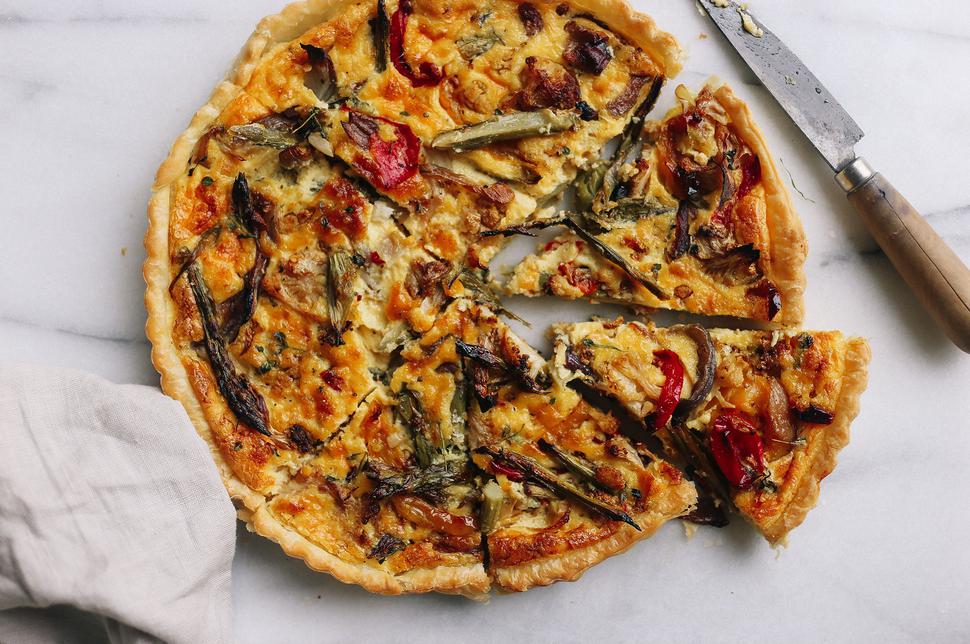 Roasted Vegetable Tart With Crème Fraiche & Thyme
Vegetarians and meat eaters alike will adore this roasted vegetable tart
Thursday Nov. 7, 2019
This tasty tart combines roasted vegetables, crème fraiche and thyme for an excellent vegetarian dish. I love it's natural versatility. Use whatever produce is in season, and exchange the herbs accordingly. You could even top it with seeds or additional cheese for extra texture.
ROASTED VEGETABLE TART WITH CRÈME FRAICHE & THYME RECIPE
Serves 8
1 red onion
¼ head cauliflower
1 red capsicum
1 bunch asparagus, woody ends removed
3-4 Tbsp extra virgin olive oil
Tart
200g short crust pastry
4 free range eggs
200g crème fraiche
100g grated parmesan
½ tsp sea salt
½ tsp cracked pepper
A handful fresh thyme
1. Preheat the oven to 180C. Lightly grease a 16-18cm tart tin with a removeable base.
2. Slice the onion, cauliflower, capsicum and asparagus into 1cm thick pieces, toss in extra virgin olive oil, and arrange in single layer in a large baking tray or dish. Season with a little sea salt.
3. Roast in the oven for about 20-25 minutes or until nicely cooked.
4. Remove from the oven, and allow to cool while you prepare the pastry.
5. Roll out the pastry on a floured bench and carefully press into the greased tart tin. Trim the edges neatly. Blind bake for 10 minutes or until lightly golden.
6. Whisk together the eggs, crème fraiche, parmesan, sea salt and pepper, and pour into the pastry case. Arrange the roasted vegetables evenly amongst the egg filling. Sprinkle the fresh thyme over the top.
7. Bake for 25 minutes or until the mixture is golden and set in the middle.
8. Allow to cool for 15 minutes or so before slicing into wedges.
Share this: