Meet Roman Petry, The Robatayaki Chef Bringing His Unique Style To Auckland
Roman Petry, of San Francisco's Roka Akor, is touching down in August for American Express Restaurant Month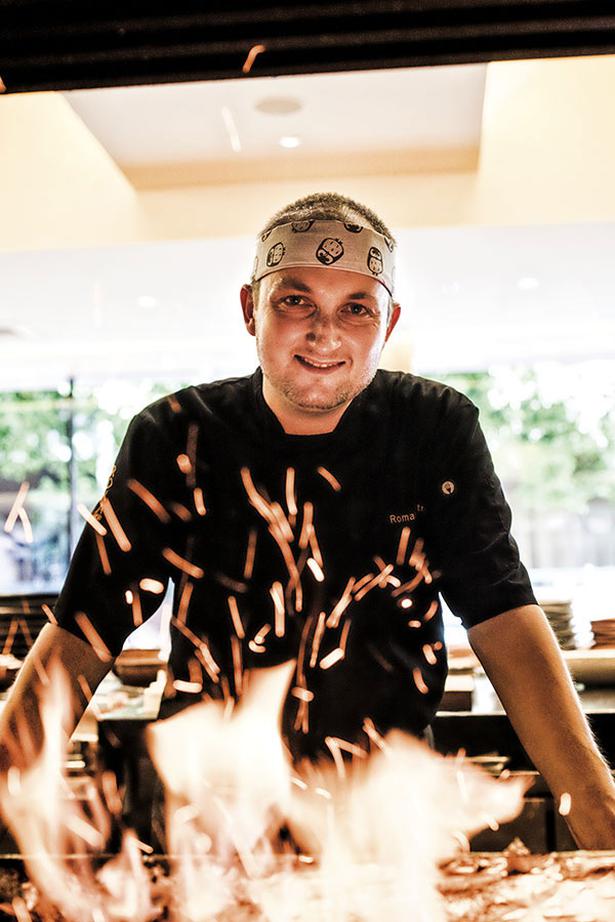 Friday July 27, 2018
Roman Petry is a fast learner. It wasn't until he was 19 that he first tried sushi, but the German-born chef quickly embraced the Japanese cooking method robatayaki, and has since been named as one of only 26 professional wagyu chefs in the United States. "I was a late discoverer of Japanese cuisine," Petry says. "It's not as available in my native Germany, but I was introduced to it during my time at Zuma London and fell head over heels with it."
Romanced by the precision, flavours and textures of Japanese fare, Petry counts Zuma London in 2005 and later, Zuma Hong Kong as his training ground to sharpen his skills in the art of robatayaki.
The secret, Petry says, lies in the charcoal, sauces and marinades used, as well as the controlled heat exposure. "It's a fun way of cooking and really intensifies flavours and highlights the quality of the produce."
READ: Monique Fiso's Pop-Up Is Set To Get A Permanent Home
According to Petry, the best produce to use in robata-style cooking is wagyu beef. "Wagyu beef and robata-style cooking go so well together for one simple reason — if you bring two of the best things together, you're guaranteed to end up with something stunning."
Binchotan charcoal offers wagyu beef a remarkable form of caramelisation when prepared in this way, says Petry, allowing its unique flavours to shine through. "There's no better way to prepare it," he says.
And when it comes to New Zealand wagyu beef, Petry says the quality is second to none. "New Zealand has some of the best wagyu beef in the world, alongside its stunning produce, seafood and wine," he says. "I'm blown away by the quality of ingredients here."
The San Francisco local will experience this first-hand when he arrives in Auckland for A Taste Of Wagyu at Masu on August 9 for American Express Restaurant Month, where he'll join ex-colleague Nic Watt in the kitchen to create a five-course menu of wagyu dishes.
His excitement at cooking alongside Watt once again is palpable, even if they are yet to settle on their final menu. "The most exciting time of collaboration will start shortly before the event, when we're together again in the kitchen," says Petry, who explains he wants wagyu aged in beeswax to be one of the hero dishes. "It makes for the most amazing, melt-in-your-mouth texture and stunning flavour." Each course will be paired with New Zealand wine listed on the 2018 Fine Wine List, including an additional glass upon arrival.
Petry credits Watt as one of his early mentors, noting he learned a great deal from the renowned Kiwi chef during his time as international executive chef of Arizona-based restaurant Roka Akor more than a decade ago. "We always had a great working relationship and became friends. He was an important part of opening the first Roka Akor in Scottsdale, Arizona."
Over the past 10 years, Roka Akor opened its doors in five other locations, and is now synonymous with robata grilled steaks and wagyu dishes across America. The award-winning chain is anything but mass market, instead carving a unique space for Japanese cuisine in the US.
READ: This One-Night-Only Dinner Sees Japanese Food & Craft Beer Collide
Proof of Petry's food philosophy; "keep the preparation simple and let the ingredient shine", is evident when he is asked about his favourite dish at Roka Akor: grilled corn with butter and soy. "America has some amazing corn, and we cook it three times to make the most of its sweetness. To me, this is the most amazing way to highlight a humble but stunning ingredient, and it's really tasty," he says.
Half a world away in New Zealand, the chef says he's looking forward to experiencing Auckland's burgeoning hospitality scene. "I'm a big fan of the food scene in Auckland," he says. "But until now I've only been an admirer from a distance. It's time to start exploring."
• A Taste Of Wagyu. August 9. Tickets $220 (includes arrival drink, five courses and wine matches). Masu, 90 Federal St, City. Visit Heartofthecity.co.nz
Share this: