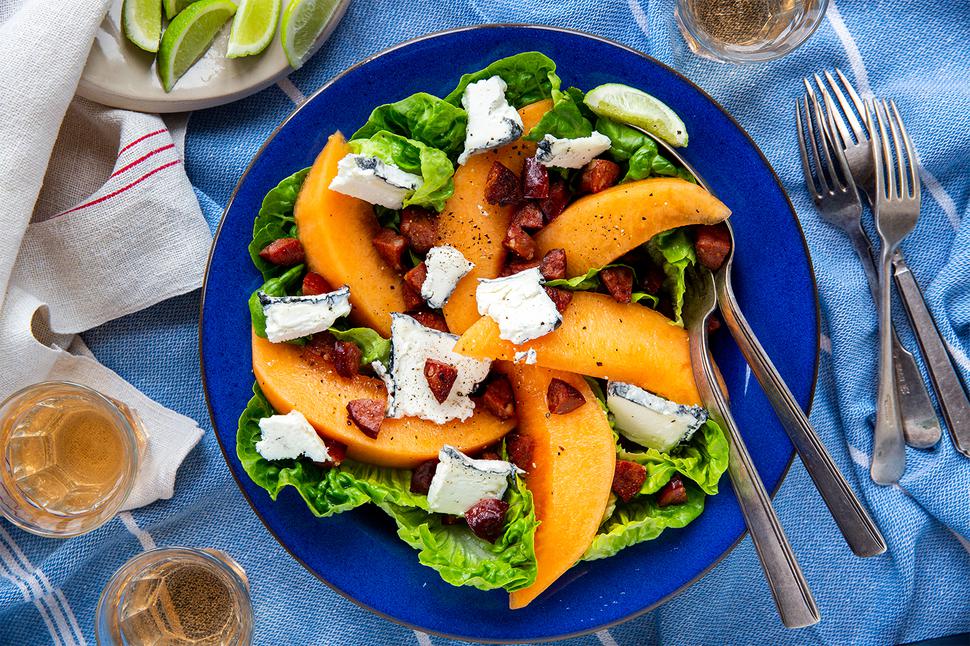 Rock Melon, Goat's Cheese & Chorizo Salad Recipe
Refreshing cantaloupe combines with a melt-in-your-mouth cheese and puckering lemon
Wednesday March 3, 2021
Juicy rock melons make for a refreshing salad, especially on a warm sunny day. Use the remaining half of the melon chopped into cereal or serve with a scoop of icecream for a refreshing dessert. This salad can be assembled in minutes just before serving.
ROCK MELON, GOAT'S CHEESE AND CHORIZO SALAD
Serves 4
1 Tbsp oil
1 chorizo sausage, chopped small
½ rock melon, skin and seeds removed
1 cos lettuce, leaves separated
100g goat's cheese, sliced
2 Tbsp grapeseed oil
1 lemon, to squeeze
Lime or lemon wedges, to serve
Salt and pepper, to taste
1. Heat the oil in a frying pan. Add the chorizo, stirring until crispy. Remove and set aside.
2. Cut the rock melon into small wedges. 3. Place the rock melon, cos leaves and sliced goat's cheese in a bowl and sprinkle over the chorizo.
4. Combine the oil with the juice of half a lemon. Drizzle over the top. Cut the remaining lemon into pieces for serving.
5. Season with salt and pepper.
Share this: