Romantic Meal Stories
Some of our favourite fashion and foodie people recall their most romantic or memorable meal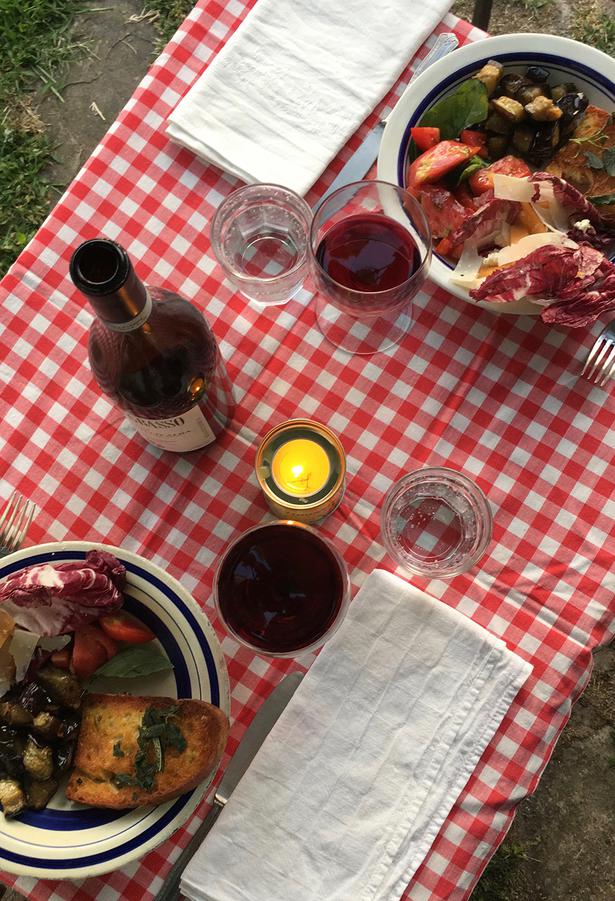 Friday Feb. 9, 2018
JANE LYONS OF THE NEXT MEAL: A homemade Italian feast
We were supposed to be camping in the Valle D'Aosta in the north of Italy but had changed our plans last minute, due to forecast flooding and storms. We booked a NZ$40 a night Airbnb in Cortemilia, a town near Cuneo.
We arrived at the Airbnb, which turned out to be the cutest little house with a big vegetable garden out the front. We were greeted by an old man called Beppe, who owned the house.
He couldn't speak any English but he had made a hand-drawn sign saying "welcome Jane!" He gave us a whole lot of beautiful homegrown tomatoes and hazelnuts and said goodbye.
It was late July in Italy so it was the peak of summer. We moved a little desk outside under the shade of some grapevines and put one of Beppe's striped tablecloths over it and had a prosecco to start things off. (Yes, this sounds too good to be true but it is real. At the time it felt too good to be true too.)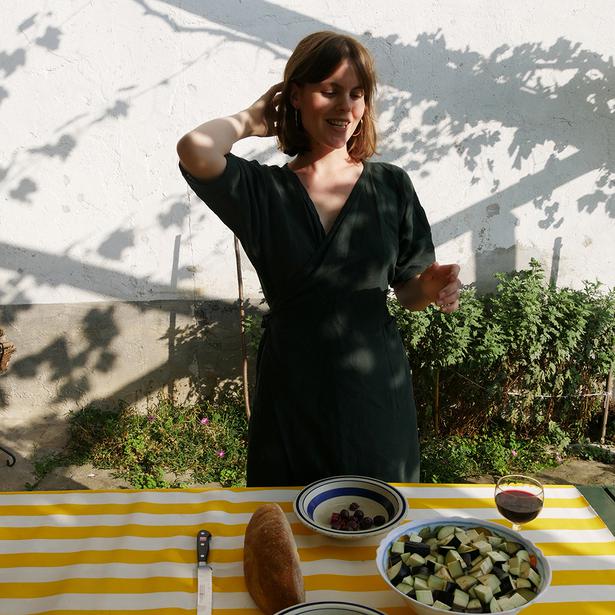 We had some beautiful produce we'd bought from a market in Turin earlier that day so we set up a bit of an outdoor kitchen and made a feast from that.
We made soft and sticky braised garlic and chilli eggplant, a salad of melon, radicchio and parmesan, a tomato, basil and olive oil salad and some sage-fried bread. So simple but so good.
It was so spontaneous, the evening sun, the eggplant (we ended up making this a lot on our trip) and the fact that it was just the two of us eating, cooking and drinking in what felt like the middle of nowhere in Italy.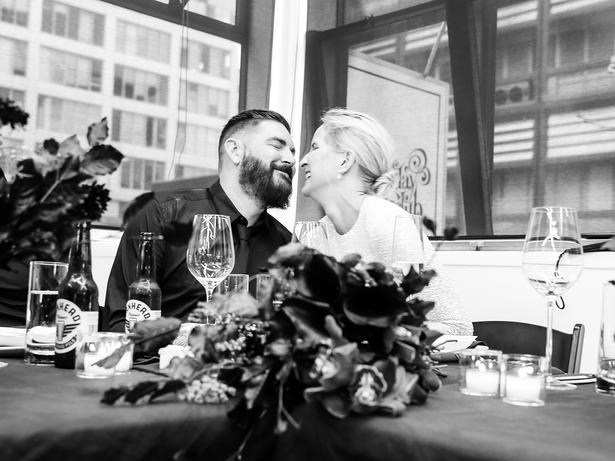 JULIETTE HOGAN: Our wedding
We were married last year. Dion proposed in August and we wed in November. To us, the occasion wasn't about standing up in front of people saying that we have decided to spend our lives together — we had decided that long before our beautiful daughter had arrived.
It was more about us surrounding ourselves with people we love and care for dearly. It was about celebrating life, love and friendships and the roles all those who were in attendance had had on our lives to date.
When we were planning the day, we wanted it to feel like a beautiful dinner party at which we were to be married.
READ: Expert Tips for Buying a Vintage Wedding Dress
Everyone who knows us knows that we love our food so what we were to eat and how we ate it was to be a hugely significant part of the day.
The venue was The Tuesday Club, which was a blank canvas and we dressed it in a way that suited both Dion and I perfectly — all clean-lined and luxe.
I didn't walk down an aisle, I wanted to be there with everyone from the beginning drinking Champagne and eating oysters and not missing out on a thing. Likewise with the photos — we didn't want to be taken away from the guests so had a few before people arrived.
For the dinner we had long tables dressed beautifully with black linen with dark and rich floral arrangements down the centre.
READ: Juliette Hogan in Los Angeles
We designed the menu with Adele from Catroux and we decided on shared plates. The meal was just so good and we have had people compliment us about it ever since: caprese salad, crayfish tortellini, eye fillet with mustard potato mash and red wine jus, hapuku with cauliflower puree, grilled aubergine, artichokes and beans, asparagus and goat's cheese, which we finished off with a cheese selection and icecreams on a stick.
We had black velvet ottomans made for people to lounge around on post-dinner and sip whiskey sours, talking the night away, while those who wanted to dance did so.
The night was magical and we didn't want to leave or for it to be over.
I loved every moment of it and would do it all again in a heartbeat. It was the best way to spend a day being surrounded by all those who matter. How could you create anything that was more romantic or any more full of love?
KAREN WALKER: Oxford on a winter's night
One of my great joys is to discover a city for the first time — preferably an old and beautiful one. It happens shamefully infrequently as my travel destinations tend to be somewhat repetitious but December 2016 did see me and my husband discover Oxford for the first time.
It was Oxford because we were passing through anyway and because I'm a sucker for history and beauty and it was leading up to Christmas so there was the extra charm that brought and because it was my birthday and I always have the day off on my birthday and because being in Oxford allowed me to exorcise all my Brideshead Revisited infatuations.
I especially love an old city at night. It's hard to beat exploring narrow lanes populated by dominating stone buildings, echoey voices and ghosts (or just plain old history if you prefer) on a cold evening with only the softest of lamplight to guide you, absolutely no destination or time limit and holding the hand of someone you love.
I've had this joyful experience in many places — I'm looking at you Barcelona, Prague, Paris, Rome, London, New York, and, on this perfect, bitterly cold December night, Oxford.
The beauty of it all was amplified by the fact I was seeing it for the first time — the sandstone, the college quads, the lights coming from small study windows overhead, the ramshackle bicycles, the Christmas trees in the quads and squares, the candlelit carollers singing all my old-school favourites — the whole thing taking me into a 3-D version of the chintzy Christmas cards I used to linger over as a child.
READ: Karen Walker and Publisher David Hedley's Exciting New Collaboration
After hours of wandering aimlessly from college to college, quad to quad, down lanes and alleys and past pubs and university book stores and seeing in reality all the famous college names I'd never thought of as existing beyond stories, it was time for supper.
We'd planned nothing. We'd simply wrapped ourselves up and gone wandering and once hunger kicked in we just stopped at the first place we came to and it was The Grand Cafe which, as it turns out, is an Oxford institution on the site of the first coffee house in England and is particularly famous for its hot chocolate.
What better birthday supper then, while in Oxford, than to be in a steamy, crowded and rather lovely cafe, having an extremely un-nutritious meal of hot chocolate and cake, before donning coat, hat, scarf and gloves and heading back out into the cold lanes, to listen to unseen carollers, discover Christmas trees, history and beauty at every turn, and to share it all, quietly and wondrously, with the one you love?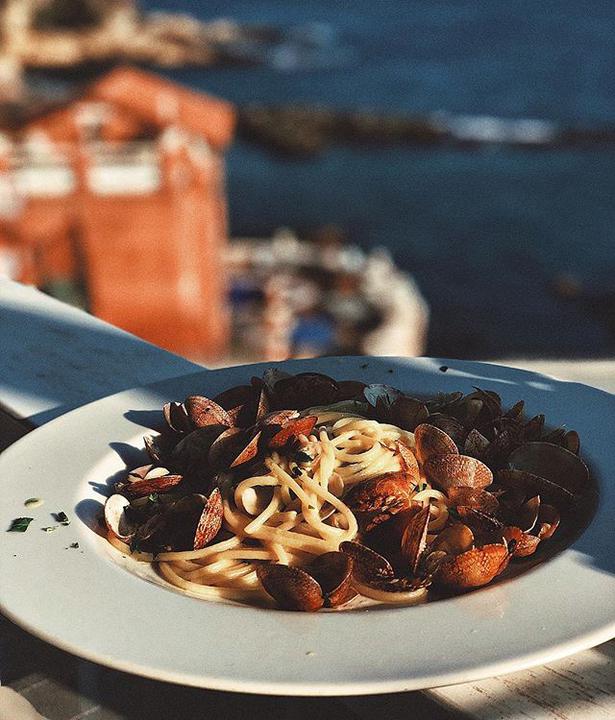 STYLIST AND STORE OWNER CHARLOTTE RUST: Sea views in Naples
In 2016, inspired by Elena Ferrante's Neapolitan novels, my partner Tony and I visited Naples. We had just been in Morocco and the host of our riad in Marrakesh recommended we eat at Da Cicciotto, a trattoria perched on the cliffs of Posillipo.
It was our final day in Naples and we decided to drive, which in itself is an adventure, so we navigated the winding, narrow roads and ended up at Cicciotto, where none of the waiters spoke English and there was no menu offered up.
We were seated outside under a large umbrella overlooking the sea and proceeded to have the freshest seafood we had ever eaten, as if fished up from the village of Marechiaro below and delivered straight to the kitchen.
READ: A Peek into Charlotte Rust's New Vintage Store
We ordered prosecco, there was the standard generous bowl of bread then the charming waiter told us, as best he could, what was good that day and a beautiful plate of crudo appeared.
This was followed by bowls of seafood pasta and finished with a lemon tart. It was sublime. Being a Saturday there was a steady parade of people going down to swim and sunbathe on the wharf.
There was a wedding party at the neighbouring restaurant so there was a celebratory atmosphere and the young children were dressed up, posing for photos and getting kisses from the waiters — the perfect Italian scene.
Share this: