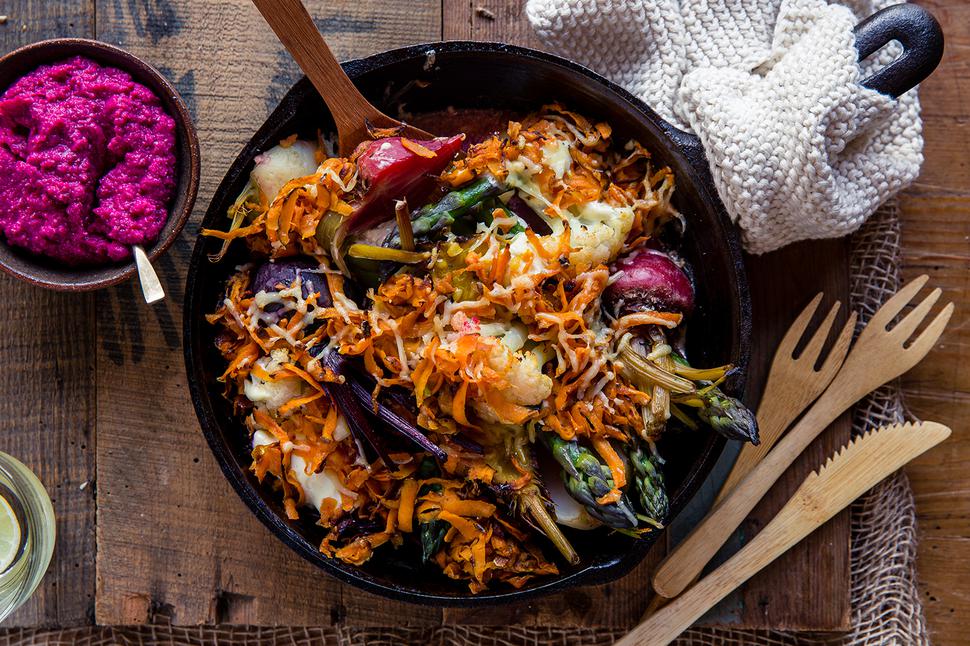 Root Vegetable Gratin With Beetroot Hummus
Put those forgotten root vegetables to good use in this clever gratin recipe
Saturday Nov. 16, 2019
Often there are a few vegetables lurking in the fridge that need using. Or you may have visited a market, got carried away and bought excess, which is easy to do in the moment. Gather them all together for this delicious gratin.
VEGETABLE GRATIN
Serves 2
2 cups root vegetables
1 bunch asparagus, halved
½ cup milk
1 clove garlic
Salt and freshly ground pepper
1 cup grated kumara
½ cup grated parmesan
1 Tbsp butter
Beetroot Hummus
1 medium beetroot, boiled
1 cup cooked chickpeas
2 Tbsp tahini
2 Tbsp lemon juice
2 Tbsp olive oil
Salt and pepper to taste
1. Preheat an oven to 180C.
2. Cut root vegetables to even sizes and cut asparagus in thirds. Cook in salted boiling water until just soft. Place into an ovenproof dish. Combine the milk and garlic. Season with salt and pepper then pour over the vegetables.
3. Sprinkle the kumara over the vegetables, dot with butter and sprinkle with parmesan. Cover with tinfoil and place into the oven for 30 minutes, then remove the cover and bake for another 10 minutes.
4. While it bakes, in a kitchen processor place the beetroot, chickpeas, tahini, lemon juice and oil, blitzing until smooth. Season with salt and pepper.
5. Serve the gratin with beetroot hummus on the side.
Share this:
More Food & Drink / Recipes