Rose and White Chocolate Pannacotta
Create David Puig Zaragoza's delicious pannacotta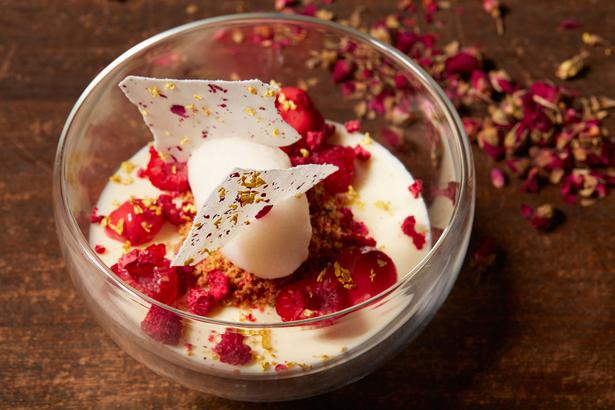 Wednesday Aug. 31, 2016
Rose and White Chocolate Pannacotta Recipe with Sorbet and Berries
Serves 4
Rose-infused cream
300g cream
2 rose tea bags
Pannacotta
4g gelatine sheets
128g milk
10g honey
205g white chocolate
Sorbet, to serve
1. Boil the cream, add the rose tea bags and let it infuse for 30 seconds.
2. Soak the gelatine sheets in ice water until soft.
3. Boil up the milk with the honey, add the soaked gelatin sheets and allow to melt.
4. Pour the hot milk mixture into a bowl with the white chocolate. Mix well.5. Add the rose tea-infused cream to th chocolate mixture. Blend with a hand blender and strain.
6. Pour the pannacotta mixture into four bowls and keep it in the fridge until set.
Rose Dried Meringue
1 egg white
150g icing sugar
1tsp lemon juice
1 rose tea bag
1. Slowly mix the egg white and icing sugar in a bowl.
2. Add the lemon juice.
3. Spread the mixture on an oven tray lined with parchment paper. Open the tea bag and sprinkle some dry rose tea on the top.
4. Bake in the oven at 60C until the meringue is completely dry and crispy.
Mixed Berry Compote
250g mixed berries
40g sugar
Zest of 1 lemon
1. Slice the berries if they are large.
2. Place them in a saucepan with the sugar, lemon zest and 2 Tbsp of water.
3. Cook for about 5 minutes.
4. Remove from the heat and cool.
To serve
Remove the bowls of pannacotta from the fridge five minutes before to use. Top each with 2 Tbsp of mixed berry compote and few fresh raspberries.
Serve with one scoop of sorbet, ideally lychee, and decorate with rose-dried meringue.
Share this:
More Food & Drink / Recipes