Lamb Ragu Recipe with Sweet Potato Mash
Try this delicious warming recipe from Eleanor Ozich of Petite Kitchen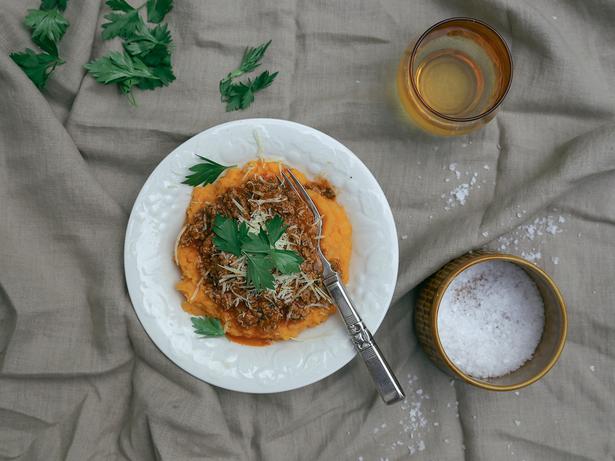 Thursday May 12, 2016
A fragrant ragu, inspired by the Sicilian combination of rich lamb, dried mint and a pinch of chilli flakes. Deep and complex, this melt-in-your-mouth dish has become a family favourite.
LAMB RAGU WITH SWEET POTATO MASH
Serves 4
• ¼ cup olive oil
• 6 shallots, thinly sliced
• 6 garlic cloves, thinly sliced
• 2 teaspoons dried mint
• 1 teaspoon dried oregano
• 1 teaspoon dried rosemary
• ½ teaspoon chilli flakes
• 500g minced (ground) lamb
• 1 glass of red wine
• 1 can chopped tomatoes
• 2 tablespoons tomato paste
• 2 teaspoons worcestershire sauce
For the mash:
• 1.25 kg sweet potato, peeled and cut into cubes
• 3 tablespoons butter or olive oil
• 2 handfuls of grated parmesan cheese
To serve
• grated parmesan cheese, for sprinkling 
• chopped flat-leaf parsley, for sprinkling 

1. Heat the olive oil in a large heavy-based saucepan over medium heat. Add the shallot, garlic, dried herbs and chilli flakes. Cook, stirring, for about 5 minutes, or until the mixture smells fragrant and the shallot is slightly softened.
2. Add the lamb and continue to cook until browned, stirring often, breaking up any lumps.
3. Stir in the wine, then leave to simmer for a few minutes, until it has evaporated.
4. Add the tomatoes, tomato paste, worcestershire sauce, 1 cup water and a good pinch of sea salt and freshly ground black pepper. Stir well, partially cover with a lid and leave to simmer for 25 minutes.
5. Meanwhile, start making the mash. Put the sweet potato in a saucepan and cover with water. Add a pinch of salt and bring to the boil, then reduce the heat and simmer for 15–20 minutes, or until tender. Drain well, then add the butter, parmesan and a good pinch of sea salt and freshly ground black pepper. Mash well.
6. To serve, divide the mash among bowls, then top with the lamb ragu. Sprinkle with a little extra parmesan cheese and parsley, if desired.

• For more from Eleanor Ozich see petite-kitchen.com
Share this:
More Food & Drink / Recipes