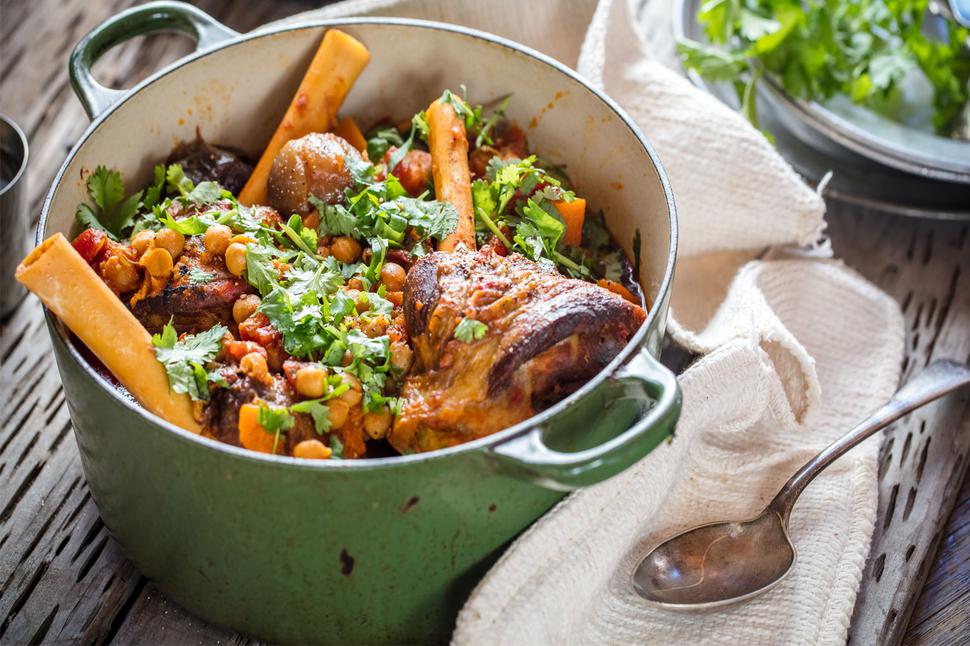 Rustic Curried Lamb Shanks With Pumpkin & Chickpeas
Slow cooked shanks and warming winter flavours are a recipe for success
Friday June 8, 2018
After returning from a cycling trip through Ohakune, I had to share some of the meals we were treated to courtesy of our hosts.
At one lodge we arrived to the smell of lamb shanks slowly being cooked in the oven. The aroma filled the kitchen and made our stomachs rumble. Bridget, the wife of the farmer, chuckled at how much we pay for these in the city, when it wasn't that long ago that the shanks would be fed to the farm dogs.
Here, I have replicated the recipe she served us, along with a few extra vegetables. If you're feeling a little naughty, save the fat from the shanks and use it for roasting vegetables.
RUSTIC CURRIED LAMB SHANKS RECIPE 
Serves 4
4 lamb shanks
2 Tbsp oil
6 baby red onions
6 cloves garlic, whole
¼ cup yellow curry paste
1 tin chopped tomatoes
½ cup water
3 cups cubed pumpkin
400g tin chickpeas, drained
1 tsp salt and freshly ground pepper
1 cup chopped coriander
Extra coriander for garnish
1. Preheat an oven to 200C.
2. Place the lamb shanks in an ovenproof dish and into the hot oven for 35 minutes. This will allow the fat to drip off. Remove from the dish and discard the fat. Turn the oven to 150C.
3. Heat the oil in a large frying pan. Toss the onions and garlic until lightly browned. Add the curry paste and cook until just starting to separate. Pour into a large ovenproof casserole dish.
4. Add the tomatoes and ½ cup water. Place the lamb shanks in, cover and place in the oven for 2 ½ hours. Add an extra ½ cup water if needed as they cook.
5. Stir through the pumpkin and chickpeas. Season with salt and pepper then place back into the oven for 1 hour until the lamb is falling off the bone.
6. Stir through the coriander before serving
Share this:
More Food & Drink / Recipes