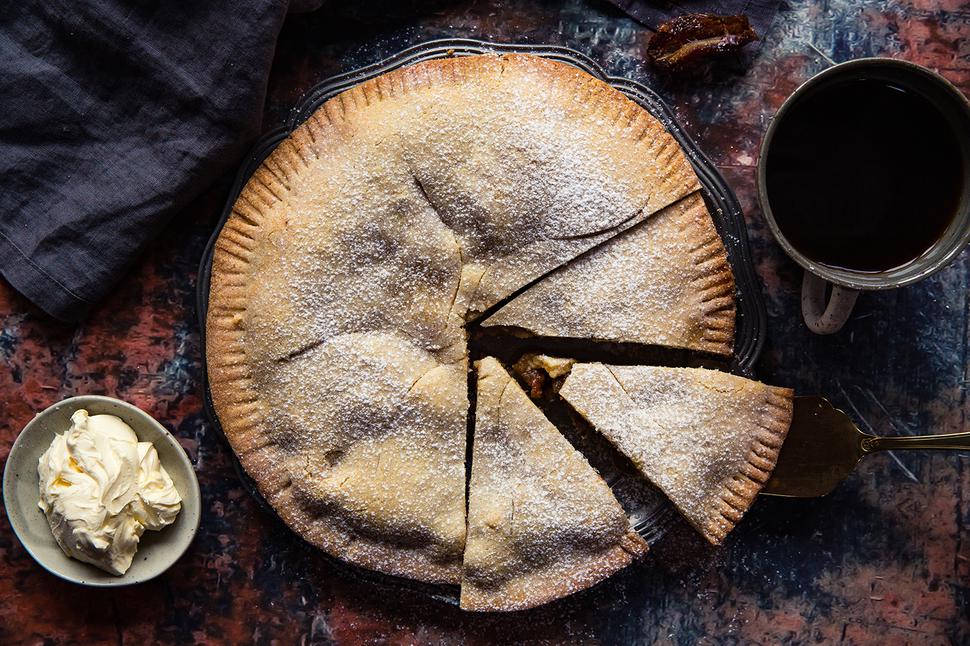 Rustic Date & Apple Galette
If you're planning to cosy up inside, prepare yourself this delicious treat first
Thursday July 25, 2019
Granny smith apples work best with this galette. When cooked they will soften to create a delicious texture with the dates. Brush the dough with milk to create a wholesome rustic crust. Serve hot with icecream or it is just as delicious cold.
RUSTIC DATE & APPLE GALETTE RECIPE 
Serves 6-8
Ingredients
2 large granny smith apples
1 Tbsp butter
2 Tbsps water
¼ tsp cinnamon
½ cup fresh dates, chopped roughly
1 tsp lemon zest
Dough
2 cups flour
½ cup brown sugar
150g butter, cut into small cubes
Pinch salt
1 egg yolk
2-3 Tbsps cold water
Milk to brush
Icecream or cream to serve
1. Peel, core and chop the apples roughly. Into a pot place the butter, water and apples bringing to a simmer for 8-10 minutes to soften. Remove from the heat. Add the cinnamon, dates and lemon zest, stirring through. Set aside to cool.
2. To make the dough, place the flour, sugar and butter in a large bowl. Using your fingers, rub together until it resembles fine breadcrumbs. Add the egg yolk and water mixing to form the dough. Divide the dough into two. Roll each piece on a lightly floured bench to a 23cm circle. Place onto baking sheets and into the fridge for 20 minutes.
3. Preheat an oven to 180C.
4. Remove the dough from the fridge, place the apple filling into the middle of one piece and spread evenly leaving a 2cm border. Place the second piece on top, pressing down the edges. Brush all over with milk, place into the oven for 40 minutes until golden and cooked through.
5. Serve with lightly whipped cream or icecream.
Share this:
More Food & Drink / Recipes