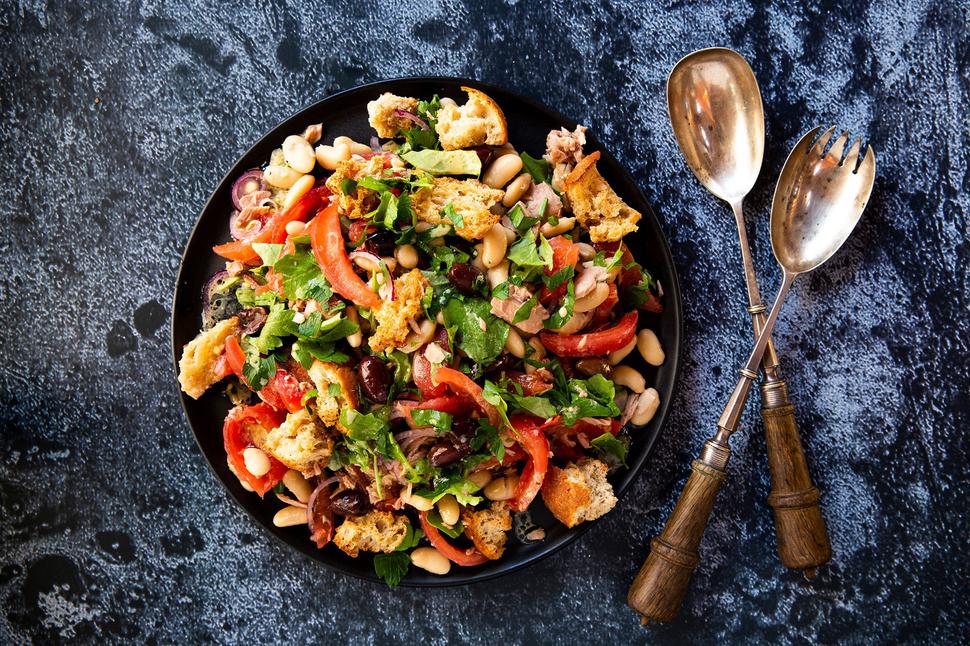 Rustic Tuna, Tomato & Rocket Salad With Crunchy Croutons
A few simple steps and a handful of ingredients is all it takes to create this rustic salad
Sunday Sept. 22, 2019
Peeling and deseeding tomatoes is worth the effort. It not only looks great but creates a smooth silky texture. Instead of throwing out unused bread, use it to make delicious crunchy croutons.
RUSTIC TUNA, TOMATO & ROCKET SALAD RECIPE
Serves 4
Ingredients
4 slices rustic bread, torn into pieces
2 Tbsp olive oil
4 large tomatoes
¼ red onion, sliced finely
400g tin cannellini beans, drained and rinsed
¼ cup Kalamata olives
185g tin tuna
2 cups shredded rocket
Dressing
2 Tbsp olive oil
1 Tbsp lemon juice
½ tsp dijon mustard
1. Preheat an oven to 180C.
2. Place the bread pieces on a baking tray, toss in the olive oil and bake for 15 minutes until golden and crispy.
3. To make the dressing, combine the oil, lemon juice and mustard in a jar.
4. In a large bowl, toss together the baked bread, tomatoes, onion, beans, olives, tuna and rocket.
5. Stir through the dressing and serve.
Share this: