Sachie Nomura's Sweet Corn Chicken Soup recipe
The founder of Sachie's Kitchen shares her recipe for a quick, easy and homely chicken soup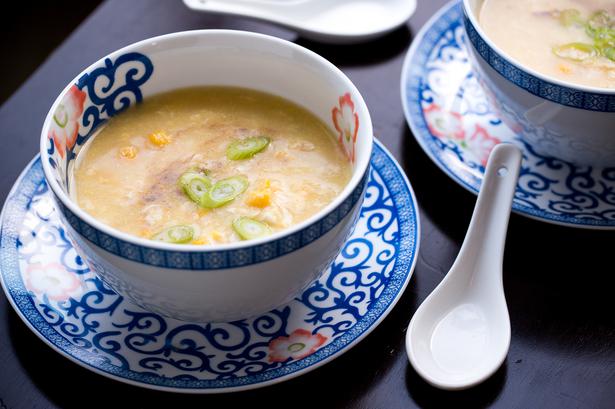 Tuesday June 6, 2017
"Whenever I am cold or craving something that's very quick and easy but still has a homely feeling, I make this soup," says Sachie Nomura, of Sachie's Kitchen. "It would be nice to have heaps of time to make a good chicken stock for this, but for busy, hungry people I've found that poached chicken will still introduce a scrummy flavour into the soup. Also, remember the golden rule - it always tastes better the next day."
SACHIE NOMURA'S SWEET CORN CHICKEN SOUP
Makes 4 entree-size serves
1 litre water
230g chicken breast
1 tin (410g) cream-style corn
¼ tsp grated ginger
¼ tsp white sugar
1 tsp sea salt
Pinch of white pepper
1 egg, beaten
1 Tbsp potato or corn starch
1/8 tsp sesame oil
1 spring onion, chopped for garnish
1. Bring 1 litre of water to boil in a medium-sized pot and add chicken. Reduce heat to medium high and poach chicken for 10 minutes or until cooked through.
2. Remove chicken on to a chopping board and shred it using two forks.
3. Put the shredded chicken back in the pot, add corn, ginger, sugar and bring to the boil. Season with salt and white pepper.
4. Pour beaten egg into the soup and stir with chopsticks.
5. Mix potato or corn starch with 1 Tbsp of water, pour into the pot and add sesame oil.
6. Stir well and serve in a bowl with chopped spring onion.
• Sachie Nomura's Asian cooking school, Sachie's Kitchen, is at 91 St Georges Bay Rd, Parnell. Visit Sachieskitchen.com
Share this:
More Food & Drink / Recipes