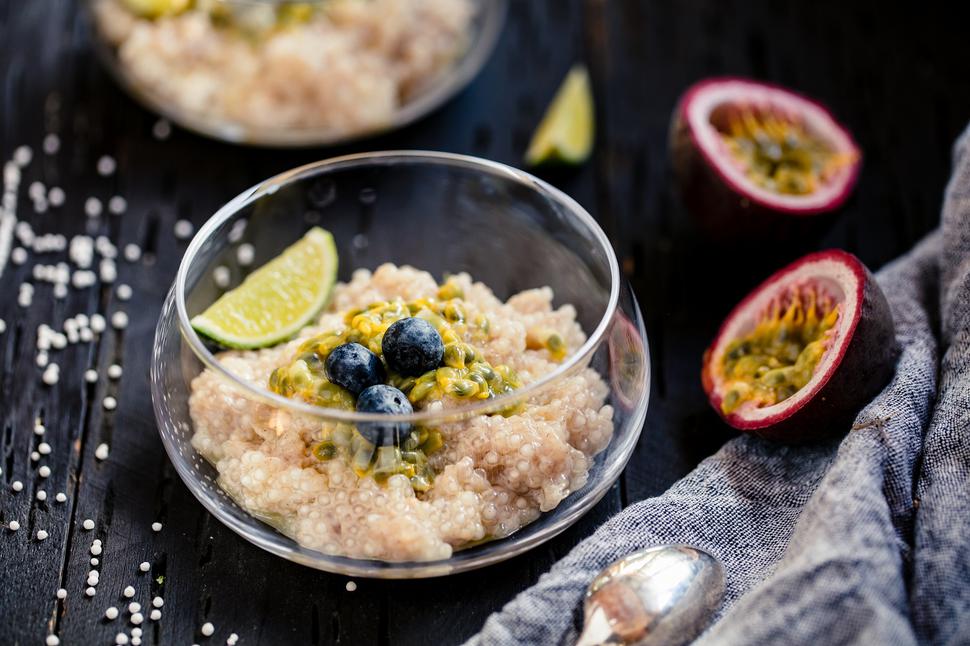 Sago Pudding With Passion Fruit & Blueberries
End your meal on a sweet note with this irresistible sago pudding, topped with beautiful seasonal fruit
Friday March 1, 2019
A little sago goes a long way. So many people buy desserts when, really, a huge range of options can be whipped up in no time with little expense. This recipe has always been a go-to for our mum, although she would simmer it over a double boiler while we ate the first course. As a child I used to like watching the white pearls turn clear and creamy. Here I use a pot and hurry the process up a little. Sago is best eaten fresh and warm. It's beautiful topped with seasonal fruit. The first of the passion fruit are hanging off the vines, so don't forget to include them.
SAGO PUDDING WITH PASSION FRUIT & BLUEBERRIES
Serves 4
3 cups full fat milk
3 Tbsp sago
2 Tbsp white sugar
1/4 tsp vanilla
1 tsp lime zest
Knob butter
1/4 tsp ground ginger
2 Tbsp lime juice
2 passion fruit
1/4 cup fresh blueberries
Extra lime wedges
1. In a medium-sized pot warm the milk. Add the sago, sugar, vanilla and zest bringing to a simmer. Stir constantly for 15-20 minutes until the sago is creamy and completely softened. If you need a little extra milk add to keep it creamy and soft.
2. Stir through the butter, ginger and lime juice.
3. Allow to cool for a few minutes then serve topped with passion fruit, blueberries and a lime wedge.
Share this: