Salmon and Coriander Salsa Parcels Recipe
For an element of surprise try Angela Casley's delicious salmon parcels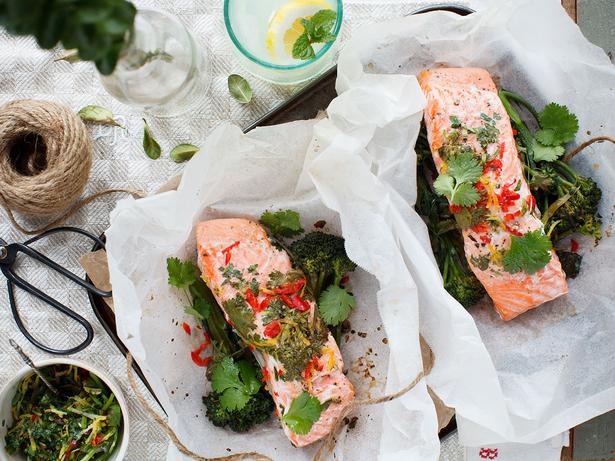 Wednesday Oct. 14, 2015
SALMON AND CORIANDER PARCELS
Serves 4
Salsa
• 1 cup coriander leaves
• 1 spring onion, chopped roughly
• 1 clove garlic
• Zest and juice of 1 lemon
• 1 Tbsp capers
• 2 anchovies
• 1/3 cup olive oil
• 1 spring onion, chopped roughly
• ½ red chilli, sliced
• 8 pieces brocollini, cut in half if stalks too thick
• 4 x 120g salmon fillet, all same thickness
• Salt and pepper
• Coriander leaves to garnish
1. Preheat oven to 180C.
2. To make salsa, place coriander, garlic, lemon, capers and anchovies in blender. Blitz a few times then add oil and mix to combine. Fold in spring onion and chilli.
3. Into the centre of 4 sheets of baking paper 30 x 20cm place some broccolini, a piece of salmon and a dollop of salsa reserving half for serving. Sprinkle with salt and freshly ground pepper. Tie the parcels neatly with string.
4. Place on tray and bake for 15-20 minutes depending on the thickness of your salmon.
5. Remove and serve hot — opening the parcels carefully. Garnish with the reserved salsa and a few coriander leaves.
Share this:
More Food & Drink / Recipes