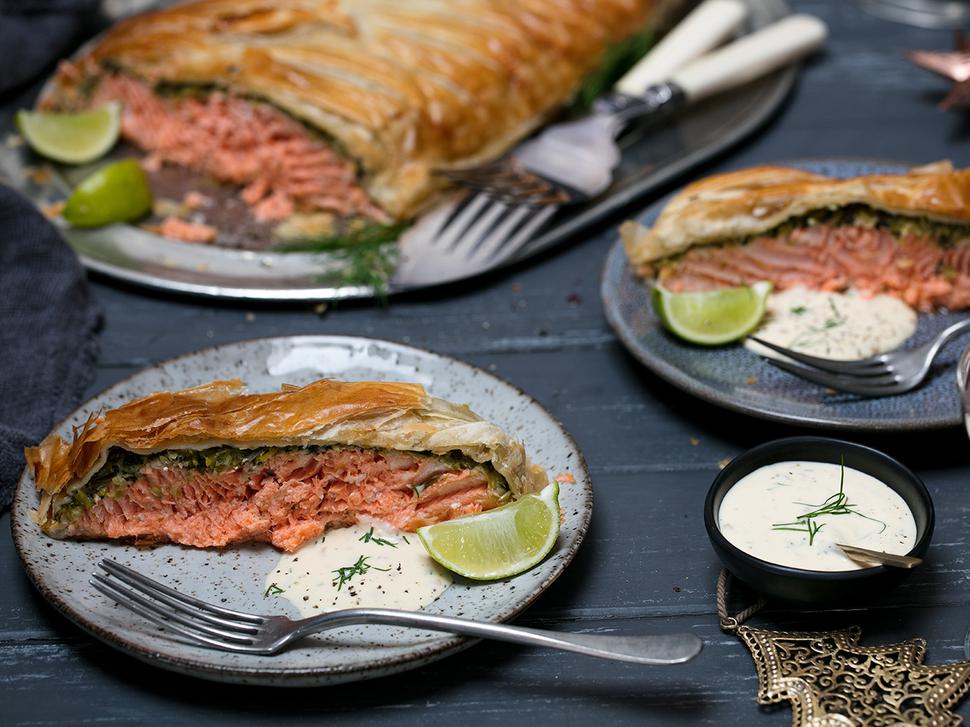 Salmon and Asparagus en Croute
Rich and buttery, this salmon is a guaranteed winner for the festive and holiday season
Friday Dec. 1, 2017
A side of salmon will feed a lot of people. It brings colour to the table and is delicious with a simple homemade aioli on the side. Serve with new potatoes rolling in butter and herbs, and a fresh garden salad.
SALMON AND ASPARAGUS EN CROUTE
Serves 6-8
1 bunch asparagus
1 cup spinach, shredded
2 cloves garlic
1 Tbsp lemon zest
1 Tbsp capers
1 Tbsp horseradish
1 Tbsp olive oil
½ cup chopped dill
½ tsp salt and freshly ground pepper
500g ready-rolled puff pastry
1.5 kg salmon fillet, skin and bones removed
1 egg, whisked

To serve
½ cup aioli with 2 Tbsp of chopped dill stirred through
Lime wedges
1. Cook the asparagus in boiling salted water for 5 minutes. Drain and refresh under cold water. Cut into smaller pieces.
2. Place the asparagus, spinach, garlic, lemon, capers, horseradish, oil, dill, salt and pepper into a kitchen processor. Blitz until it sticks and becomes pesto-like.
3. On a lightly floured board, roll the pastry to fit over both sides of the fish, so you will be able to create a large parcel. Plan how you will wrap it before you start. Spoon the asparagus mixture on to the pastry where the top of the fillet will sit.
4. Place on the fillet, top side down. Fold the pastry over the salmon to enclose. Cut out any excess piece to makes shapes for decoration. Place on an oven tray lined with a baking paper. Refrigerate until ready to cook.
5. Preheat an oven to 200C. Brush the pastry with egg. Cook the fish for 20-25 minutes, until the pastry is puffed and golden.
6. Serve hot with dill aioli and lime wedges.
Share this:
More Food & Drink / Recipes