Salmon Cakes Recipe with Chickpeas and Broad Beans
Try this delicious salmon cakes recipe by Angela Casley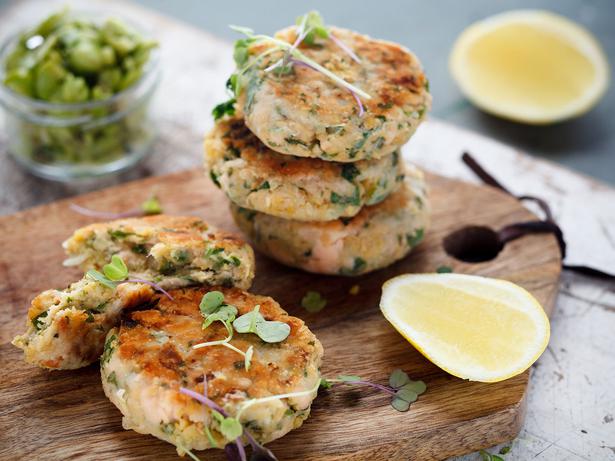 Friday April 29, 2016
Broad beans are one of my favourite vegetables. They are always in the freezer and only take minutes to prepare. They are a good accompaniment to these salmon cakes, adding fresh colour, texture and taste. The chickpea cakes are not only gluten-free but really simple. Any leftovers are great mashed into a sandwich with a fresh chopped tomato, lettuce and aioli.
SALMON CAKES RECIPE WITH CHICKPEAS AND BROAD BEANS
Serves 4
Cakes
• 400g tin chickpeas, drained and rinsed
• 1 clove garlic
• 2 Tbsp chopped coriander
• Zest and juice of 1 lime
• 2 spring onions, chopped
• ½ tsp salt and pepper
• 1 egg
• 2 tsps freshly grated ginger
• 200g cooked smoked salmon
• Oil for cooking
Broad beans
• 200g broad beans
• 2 Tbsp capers
• Zest and juice of 1 lime or lemon
• 1 Tbsp chopped coriander
• Salt and freshly ground pepper
• Fresh herbs for garnish
1. Place the chickpeas, garlic, coriander, lime, spring onions, egg and ginger in a food processor. Season with salt and pepper. Blitz until well combined. Add the salmon and blitz a little but don't allow it to break up too much.
2. Form the mixture into eight cakes and refrigerate until needed.
3. Bring a pot of salted water to the boil. Plunge the broad beans into the water for four minutes, then drain. Remove the skins.
4. Mash the beans roughly with a fork then add the capers, lime, coriander, salt and pepper.
5. Heat a little oil in a frying pan. Cook the cakes for 3 minutes on each side until lightly browned. Serve with the broad beans.
Share this:
More Food & Drink / Recipes