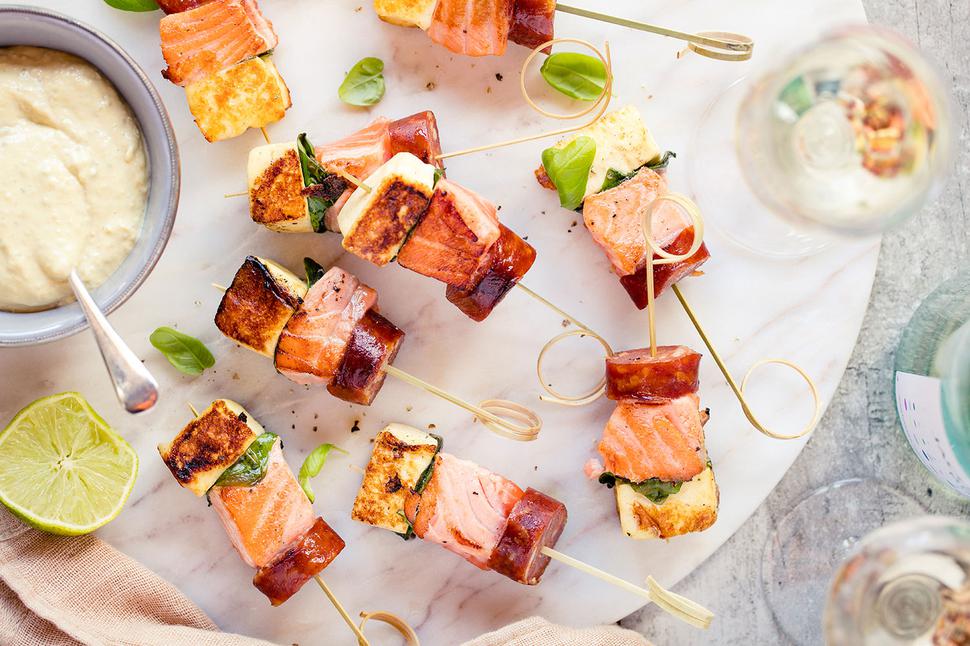 Salmon, Chorizo & Haloumi Skewers With Aioli
Trust us, these little sticks will go down a treat at your next drinks
Friday Nov. 16, 2018
These salmon skewers will provide the wow factor to any drinks party with a little spice from the chorizo, a favourite of mine, grilled haloumi and a creamy aioli dip to top them off. For a quick dinner you could make these skewers bigger and serve them with a side salad.
SALMON, CHORIZO & HALOUMI SKEWERS RECIPE
Makes 16
200g haloumi
2 chorizo sausages
200g skinned salmon fillet, bones removed
16 basil leaves
1 Tbsp oil
Sprinkle of salt and freshly ground pepper
½ cup aioli
1. Cut the haloumi, chorizo and salmon each into 16 even-sized pieces. On to small kebab sticks, place a piece of each with a basil leaf in between.
2. When ready to cook, heat a pan to a medium heat with a little oil. Fry the sticks on all four sides for 2-3 minutes until cooked through and golden.
3. Season with a little salt and pepper. Serve hot with aioli to dip.
Share this: