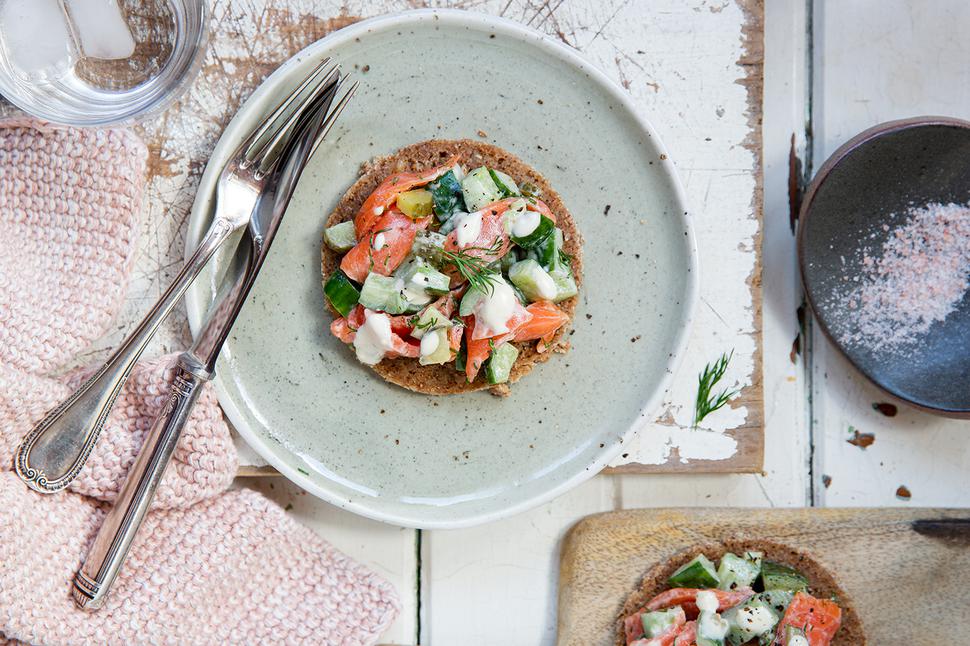 Salmon & Cucumber Rye Recipe
Like any good snack, this fresh dish relies on a balanced combination of simple flavours
Wednesday Feb. 3, 2021
Cut the bread into smaller circles to make these finger-sized. Rye is nice and chewy to complement the soft flavours of the salmon and cucumber. Using a teaspoon is the easiest way to remove the seeds from a cucumber. No need to peel them.
SALMON AND CUCUMBER RYE
Serves 4
1 Lebanese cucumber, seeds removed
¼ tsp salt
100g sliced smoked salmon
1 tsp chopped gherkins
6 slices pumpernickel or rye bread
Dill, to garnish
Lemon wedges, to serve
Dressing
2 Tbsp creme fraiche
2 Tbsp mayonnaise
½ tsp Dijon mustard
Zest and juice of ½ lemon
2 Tbsp chopped dill
1. Chop the cucumber into ½ cm pieces and place into a colander. Sprinkle over the salt, cover and leave for 20 minutes to draw out the water. Rinse and place into a clean bowl.
2. Slice the salmon into 1cm strips and add to the cucumber along with the gherkins.
3. In a small bowl make the dressing by combining the creme fraiche, mayonnaise, mustard, lemon and dill. Add half to the salmon mixture, reserving the remainder to spread over the rye bread.
4. Cut the rye into 8cm circles and top with the mixture. Serve with a sprig of dill and squeeze of lemon.
Share this: